Although dropshipping may seem like a new business model and one that relies on the internet, it has proven to be profitable since long before the invention of e-commerce.
Every year there's a wave of articles and blog posts claiming that dropshipping is dead. However, the underlying strengths (which we'll get into below!) make it unlikely that this business model will ever truly fail.
Because of the low overhead, no product storage is necessary and there's minimal risk involved. So is dropshipping worth it in 2023?
If you are considering starting an online business, make sure that dropshipping is a part of your plan. However, be aware that there will be many challenges associated with this approach to e-commerce sales.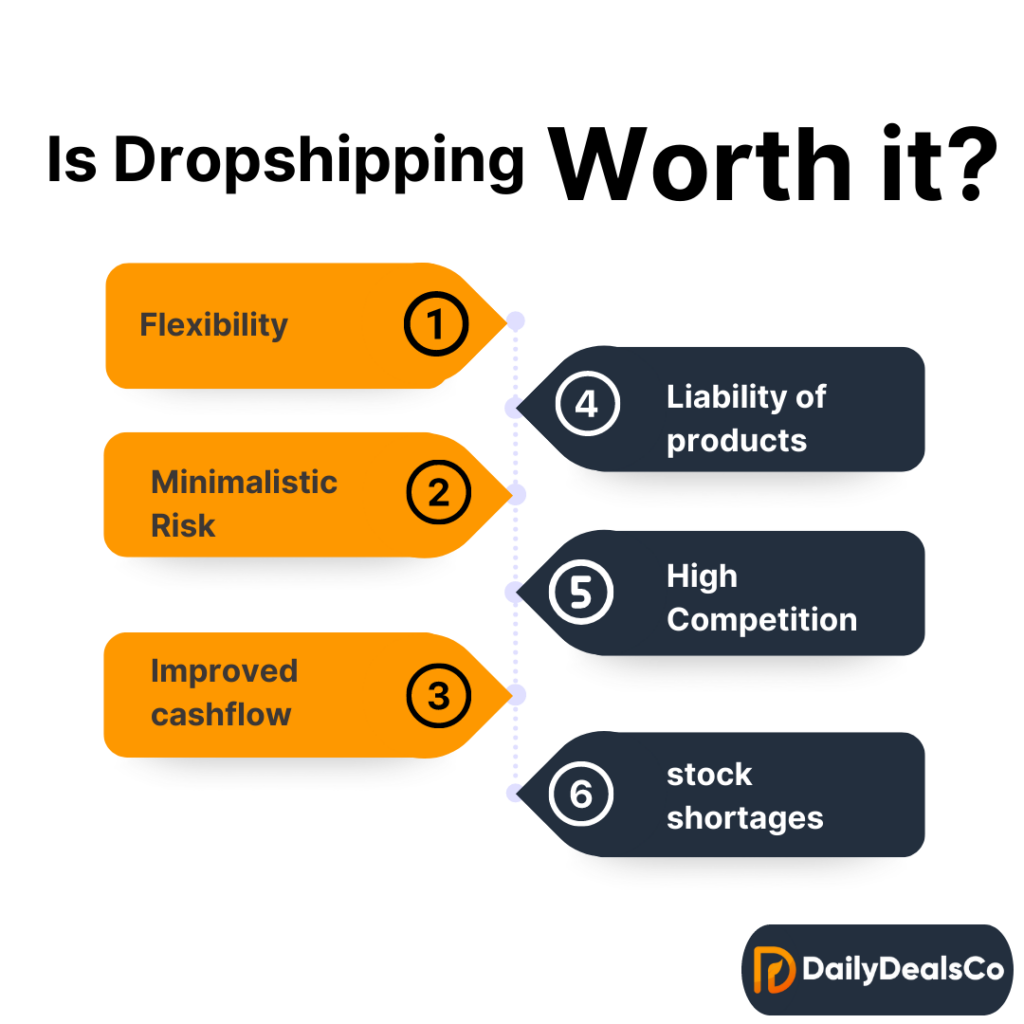 In this article, we'll answer the question "Is Dropshipping Worth it in 2023?".
For those who want to start their own drop shipping business, we've compiled a list of resources.
What Is Dropshipping?
Dropshipping is a business model in which the retailer does not keep products in stock, but instead has them shipped to customers directly from suppliers.
Because e-commerce sites don't require large inventories, it is easier to grow your business over time and reach new markets.
Due to its growing popularity and ease of use, dropshipping is a great way for entrepreneurs to begin their online businesses.
The fact that you are reading this article shows that you have already taken the first step towards becoming successful as a dropshipping online entrepreneur. But let's not waste any more time and get started!
The global dropshipping market was expected to reach $128 billion by 2020, growing at a rate of 32% during the next five years.
E-commerce has surged in Asia as shoppers enjoy the convenience of online shopping, even during times of economic uncertainty.
A whopping 30% of Amazon retailers use drop shipping. The rise of e-commerce has made dropshipping more popular.
Is Dropshipping worth it in 2023?
Yes, dropshipping is a great way for first-time entrepreneurs to start their businesses.
The number of people searching for the term "dropshipping" has increased exponentially in just a few years.
A trend that shows no signs of slowing down anytime soon!
Dropshipping is a more profitable business model than traditional retail. Some studies claim that it generates up to 200% profit. However, this is not the only reason why more businesses are adopting dropshipping—they also enjoy increased flexibility and reduced capital requirements.
Since the traditional model involves all aspects of your business, you have only one chance to pick it correctly.
The result is that store owners may waste a great deal of money if they choose incorrectly at first.
It isn't dead; Dropshipping is worth it. it is just seeing a surge in new players that have muddied the waters—and given dropshipping a bad reputation.
Legitimate drop shippers have been working in the eCommerce world for decades, they continue to make money through the fulfillment technique since it's far less costly to have someone else store and ship your products than to do it yourself.
Dropshipping is a simple business model in which you create an eCommerce website, find a supplier that offers products at wholesale prices or below, then advertise and sell their merchandise.
What is the reason behind the popularity of Dropshipping?
The popularity of drop shipping increased significantly during the pandemic, as many people had difficulty getting access to goods.
In this situation, many people turned to dropshipping as a way of making money from home. In addition to requiring little or no investment, it can be done from anywhere in the world with an Internet connection.
These factors made working remotely more tolerable for some than others.
The reason some dropshipping businesses thrive while others fail is that these successful companies prioritize customer satisfaction above all else.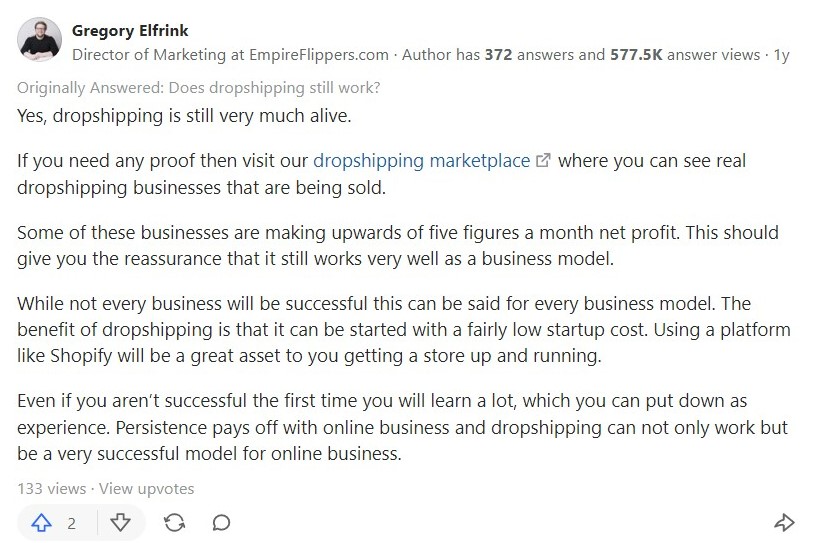 Google Trends For Dropshipping Growth rate and projections
According to the report published by Grand View Research, the global dropship market size was valued at USD 102.2 billion in 2018 and is expected to register a CAGR of 28.8% from 2019 to 2025.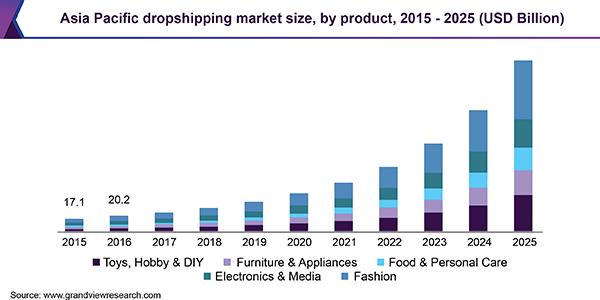 A study by Research & Markets predicts that the global dropshipping market will be worth $591.77 billion by 2027.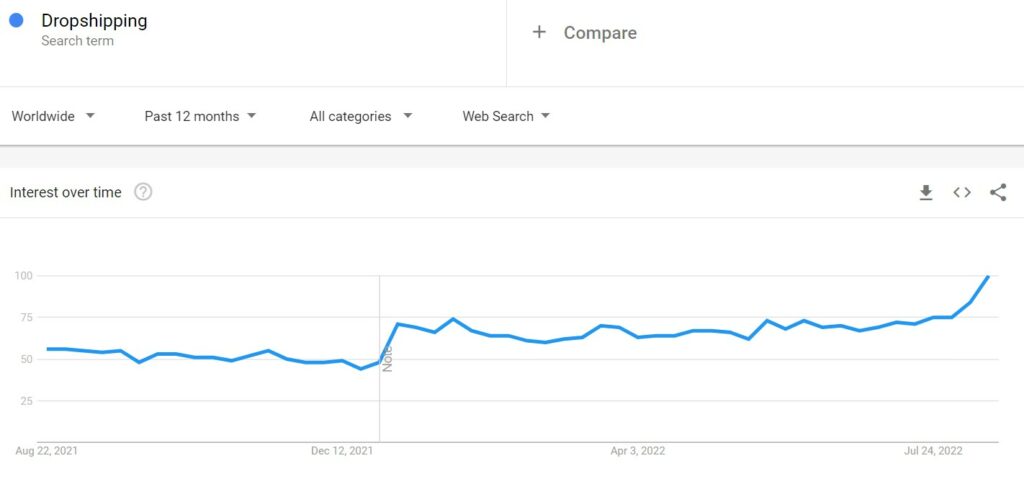 It is estimated that about 50% of all online sales on Amazon are made by third-party sellers who use retail models like dropshipping.
Shopify revenue for the quarter ending June 30, 2022, was $1.295B, a 15.69% increase year-over-year.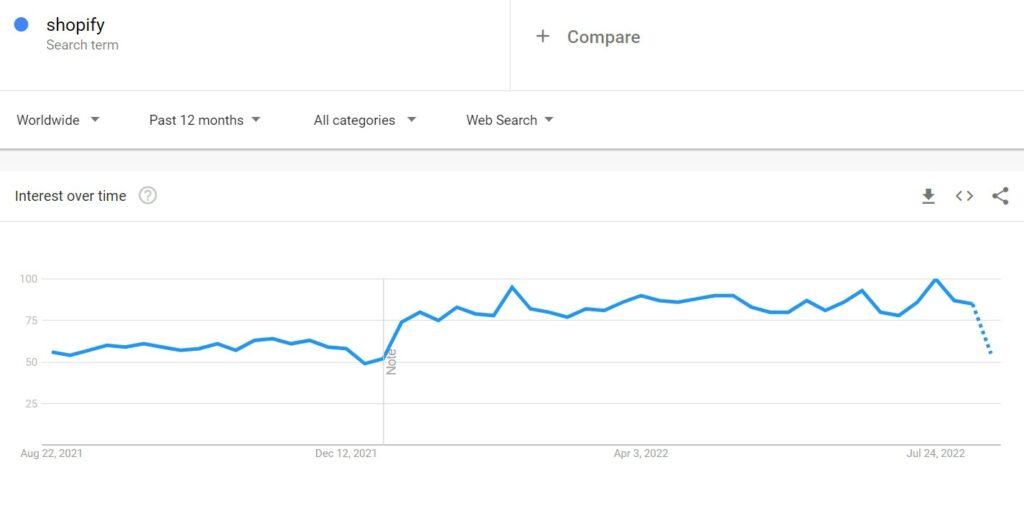 A better indicator of the success an online retailer might have is to look at Shopify's overall revenue.
Is Dropshipping Worth it – 4 Major Benefits
Dropshipping is popular with new online entrepreneurs because of the many benefits it offers:
#1. Flexibility
Flexibility in any business is a must, especially for online start-ups.
Starting a business is often expensive, so it's important to keep expenses under control during the early stages.
You can sell as many or as few dropshipping products through your store, depending on how much time you have to manage orders.
Dropshipping is a low-cost way to start selling products online since you don't pay for the merchandise until customers purchase it.
It's a flexible eCommerce business model that lets you work whenever and wherever it is best for your lifestyle.
Dropshipping offers many benefits over traditional brick-and-mortar businesses, including helping you reach your break-even point faster.
#2. Minimalistic Risk
When a store receives more orders than expected, it must expand to keep up with demand.
For traditional retailers, scaling up can be difficult because of the problems that arise from hiring more storage space or recruiting more sales assistants—this takes much effort to complete.
Once you sell a product, the dropshipping supplier takes care of order fulfillment and shipping.
You can start a dropshipping store by getting a domain and hosting.
Even if one niche or product isn't selling well, a dropshipping store owner can easily switch to a better-selling item.
Even if you lose the store, and are unable to scale its sales or profit from it in any way, you can still sell your stake with little or no loss.
#3. Improved Cashflow
With dropshipping, there is no waiting around to recoup initial business costs. Cash flow is often a significant problem for retailers—they pay for the wholesale supply and then let it sit in a warehouse until sales come in from customers.
Improved cash flow, more control over your business, and less stress are all benefits associated with dropshipping.
As you scale up, the cost of goods sold drops, and your margins increase. It's one of the main reasons why people choose this method over others.
Learn how to start dropshipping for free in a few simple steps.
Is Dropshipping Worth it – 3 Major Drawbacks
Dropshipping can be a great way to start your own online business. But there are drawbacks that you should consider before making the jump—especially if you're new to e-commerce or have never sold anything online before.
#1. Liability of Products
Dropshipping is a great way to get started in eCommerce but also goes wrong if not handled properly.
When you sell products through dropshipping, your ability to control what happens is limited.
Suppliers are responsible for the storage, packaging, and shipping of products.
Because the products are shipped directly to customers, dropshippers may not be able to ensure high-quality customer service.
Therefore, if any problems arise with products your brand will be blamed rather than the distributors.
Despite its benefits, dropshipping compromises the product at a fundamental level.
However, you can ensure quality by ordering samples of all products before selling them.
Perform this process once every quarter to ensure that any change in the production process or materials is noticed right away.
You can't affect the quality of manufactured goods, so put more effort into finding reputable sources for those products.
#2. High Competition
When your business depends on a strategy that entails selling products you don't own, the slightest mistake could ruin everything.
People are always looking for ways to make money quickly. As a dropshipper, you have to compete against both large and small companies that have been in the e-commerce market for years.
It's not a get-rich-quick scheme, but you have to compete with people who think it is.
Over the past five years, Google Trends data shows that searches related to "dropshipping" have tripled. This signals a growing interest in dropshipping and makes it important for you to be ready for fierce competition.
Instead of focusing on trying to compete with other companies in your industry, you should focus on building a successful brand.
#3. Stock Shortages
When you sell through dropshipping, there are often times when there isn't enough stock available to fulfill orders right away (or at all), which can lead to some customers waiting longer than expected.
Dropshipping is also a logistical and planning challenge, as the store owner must constantly check inventory levels and plan out their ordering schedule in advance.
Checking whether products are available or out-of-stock adds to customers' waiting time.
One disadvantage of dropshipping is that it prevents you from having maximized profits.
To boost revenue, there are two main approaches: increasing prices and reducing production costs. Dropshippers only can interfere with the product pricing because suppliers have total control over their production operations.
Four Things to Consider Before Starting A Dropshipping Business
All of us have dreams and goals for our future lives. For example, some people want to climb the corporate ladder at their workplaces while others are trying to get a career started—whatever it is that we're striving for, all decisions will affect where we end up in life. Without much thought about how this might impact potential failures down the line.
Let's examine some of the common concerns that prevent people from setting up their dropshipping stores.
Is Dropshipping Profitable?
Yes, dropshipping is indeed a way for you to make money if you take your time and learn the process.
Dropshippers often have to pay a premium for the products they sell and typically cannot earn large profits because of competition among sellers offering similar goods.
If you're going to dropship, your return rate mustn't exceed what you can sell.
At first glance, it may seem impossible to make enough money under these circumstances; however, the answer is simple:
By taking advantage of all the different ways you can sell your products online, and if you're willing to do some research so that you understand how to manage your inventory effectively, dropshipping can work for anyone!
"The freedom to sell your product without dealing with fulfillment or shipping may sound appealing, but only if you're making money!"
Is Dropshipping Legal?
The answer is yes, for the most part. You can sell products that you did not make yourself as long as they do not infringe upon someone else's intellectual property rights.
Although there are no laws specifically against dropshipping, it is illegal in some countries if certain conditions are not met.
Reliable Products or Brands: Ensure that all of your products are quality and trustworthy brands, just like those sold by other retailers in your area.
Local Laws: Check with your local state or province's laws about dropshipping, as they may have restrictions on which products can be sold through that method.
Structure of Business: Sole proprietorships, LLCs, and C corporations are all forms of business. But an LLC can provide greater protection as a dropshipper you won't be personally liable for any debt the business accumulates.
Policies: You'll need privacy, shipping, and returns policies to make potential customers feel comfortable about buying from your dropshipping store.
How long does it take to reach a goal?
You can make money in dropshipping even if you are not a genius. All it takes is doing the work and being patient while your business grows.
If you're willing to put in the effort, anyone can start a successful dropshipping business. However, many people say "I want to be an entrepreneur" but never follow through with their plans.
So, How long does it take to reach a goal?
That depends on what kind of business you want to start.
It can take anywhere from 2-6 months for your business to start making money. You can expect to spend 10-15 hours per week on dropshipping, earning at least $2,000 in monthly revenue.
Interested in building a dropshipping store. Visit Shopify and start working.
How do you find the right suppliers?
Dropshipping is alive and well, as are good suppliers. You just need to do your research and find the right supplier. Though it may seem like a waste of time, this step is essential to the process.
If your customers are unhappy with or worse, don't receive the products they've ordered from you, it's time to reassess.
Therefore, you have to thoroughly vet dropship suppliers before you start working with them. You have to pay close attention to the following while vetting them out:
Shipping Time: You should make sure that your supplier has a reliable and efficient shipping system. Evaluate them on these bases to see if any other supplier can provide you with a good shipping timeline and costs low.
Refund or Return Policy: Make sure that all refund and return policies are clearly outlined in writing so there aren't any misunderstandings.
Customer Support: You should pay attention to whether or not the company has a customer service department that's easy to get in touch with, so you can decide if they're willing to work with you as well. Because customer service is an important component of any successful business, it's smart to choose a supplier with a good reputation when it comes to handling issues on the front line.
Reviews and Ratings: Check online for the company's reviews on sites like Google, Facebook, Trustpilot, or Yelp. Look for feedback from customers who have used them before—positive reviews are a good sign.
Learn how DailyDealsCo can you in all these aspects.
What are the Steps to Build a Profitable Dropshipping Business?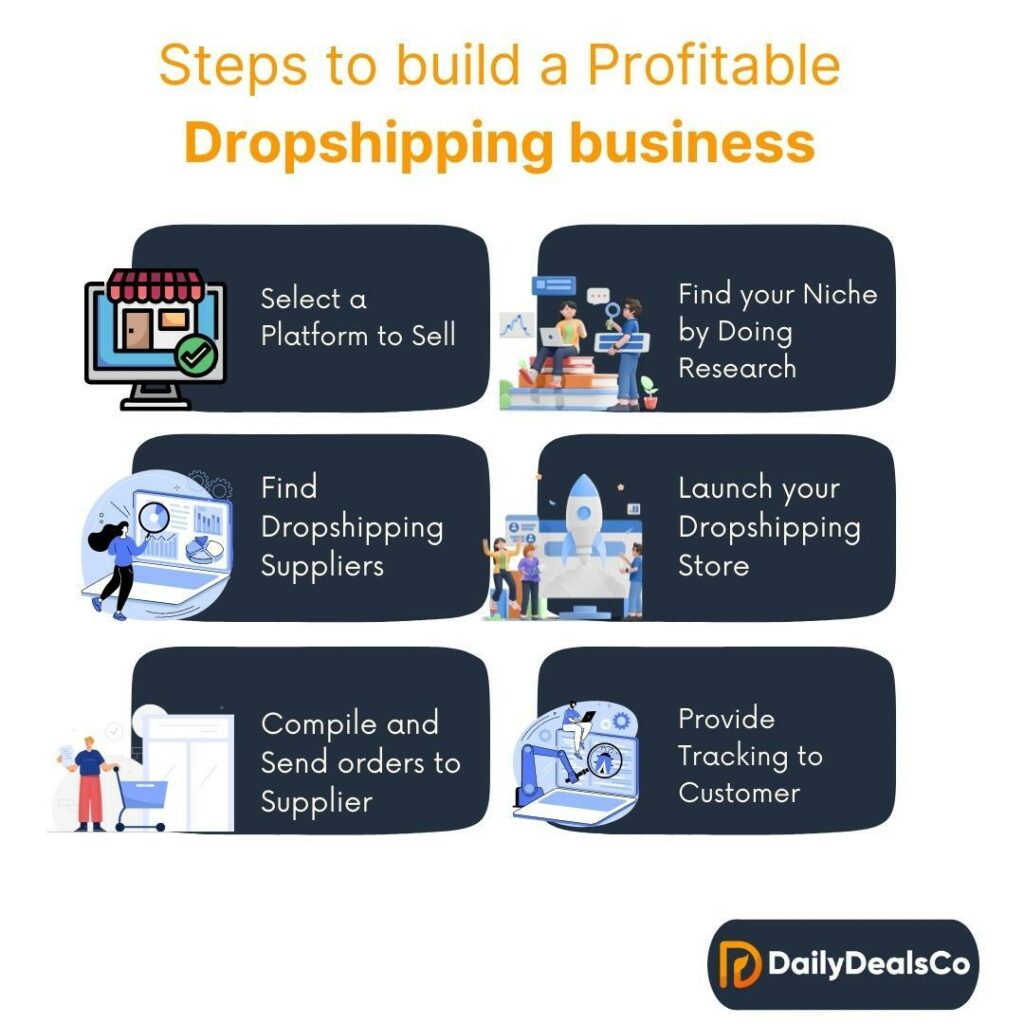 Our analysis reveals that certain steps lead to a more profitable business when adopted than others and suggests ways to maximize revenue at each level.
#1. Marketing (Social Media and SEO)
Dropshipping eliminates the need to maintain a physical store, so your online presence will be responsible for generating revenue.
It's important to promote your dropshipping store on social media and make sure that search engines can index your website.
Using social media to market your dropshipping business not only allows you to reach potential customers but also helps build brand awareness, an important aspect of running any successful eCommerce operation.
You can use social media marketing to:
Promote products
Expand your reach
Generate leads
Build a relationship with your customers
#2. Top Notch Customer Support
A good customer support team is an essential part of any successful company.
It's not just a matter of being nice and making them feel comfortable—you need to make sure they are getting the best service possible, and that means listening carefully to what their needs might be.
You should be able to resolve customer issues in a timely and effective manner so that customers feel heard and satisfied.
This will help create a relationship of trust with your customers—which in turn can lead to repeat business and generate new sales.
#3. User-Friendly Website
A user-friendly website helps to boost sales, so make sure that yours is easy to navigate and provides clear instructions on how users can get started.
High-quality photos, detailed descriptions, and beautiful graphics make it easier than ever to find what you're looking for.
#4. Automation
Automation will increase the efficiency of your e-commerce store, allowing you to focus on other aspects of running a business.
Some eCommerce platforms allow merchants to automatically continue checkout, but if yours does not, don't worry.
Many user-friendly dropshipping plugins automate your business operations.
These plugins allow you to automate the process of checking inventory, confirming that customers have ordered successfully, and sending their order information to them.
Conclusion
Is Dropshipping Worth It in 2023?
Dropshipping is worth it. It is the holy grail of many online businesses, but too many fall victim to its potential pitfalls. Dropshipping can be extremely profitable if you apply the process correctly.
Dropshipping has its own set of advantages and disadvantages, but when used intelligently it's a great way to introduce yourself to eCommerce without having to purchase inventory upfront.
Ultimately, you need to consider whether dropshipping is the right business model for you.
Want to know about Amazon FBA click here.