A lot of people wonder, "Is Amazon FBA worth it? Or is there a better way to get started in e-commerce?"
Yes, Amazon FBA is worth it.
It's not just the fact that you'll get a full-time job working from home and don't have to pay for office space—it's also the amazing community of people who are there for you every step of your journey.
Anyone in the world can sell products on Amazon using the Fulfilment by Amazon (FBA) program.
Surprisingly, a recent study by Statista showed that 73 percent of Amazon sellers in the U.S. use FBA. You can easily start selling on Amazon within weeks by using the FBA program.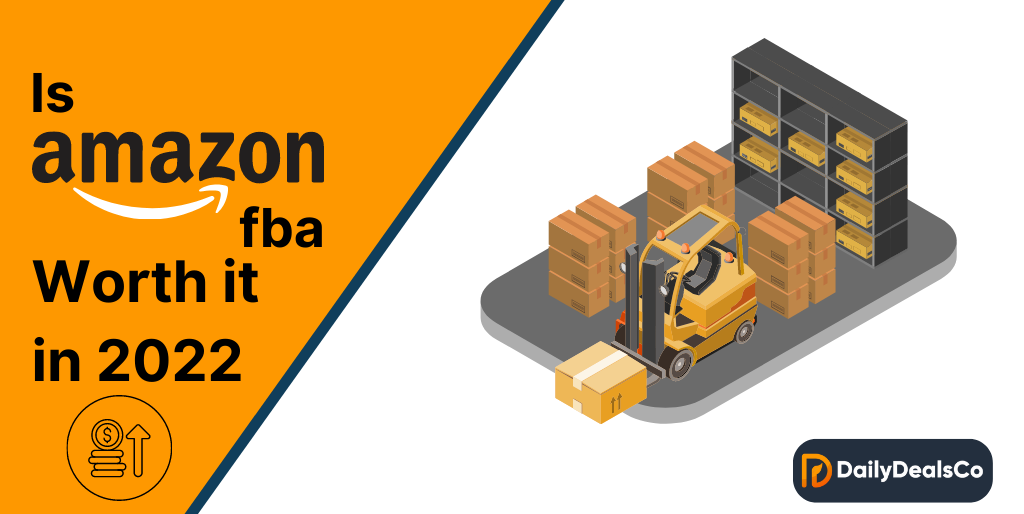 Let's walk through all the aspects of Amazon FBA and find the answer.
What is Amazon FBA?
Is Amazon FBA Profitable?
How Much do Amazon FBA Sellers Make Monthly?
Is Amazon FBA Legit?
How Does Amazon FBA Work?
Amazon FBA Fee Structure
How long does it take to Start Selling on Amazon as an FBA Seller?
Ungated Categories for Amazon FBA
Fulfilled by Amazon Vs Fulfilled by Merchant
Pros and Cons of Amazon FBA

Pros
Cons

Your Responsibilities as an Amazon FBA Seller
Tips and Tricks for Amazon FBA
Alternatives to Amazon FBA
Conclusion
What is Amazon FBA?
This fulfillment program was launched in 2006 and is used by millions of sellers around the world. Amazon FBA means Fulfillment by Amazon.
Sellers vastly use this program for order fulfillment while selling on Amazon.
Using the Amazon FBA program, you outsource storage, packaging, shipping, returns, and customer service to Amazon. Therefore, many small and big sellers use FBA for ease and efficiency in operations.
You ship your products in bulk to one of Amazon's fulfillment centers where Amazon stores your inventory and then whenever you make a sale, Amazon picks, packs, and ships the product to the customer.
Amazon also takes care of after-sales services like customer support and handling returns.
In 2020, Amazon's revenue was a whopping $386 Billion which went up to $469 Billion in 2021 and is increasing steadily every year.
A quarter of the total revenue of Amazon comes from third-party sellers and 88.8% of these third-party sellers use FBA to manage their business on Amazon.
Is Amazon FBA Profitable?
In terms of revenue:
60% of Amazon sellers make monthly revenues from $1K to $250K.
12% of Amazon sellers make monthly revenues from $250K to $500K.
Although revenue isn't an indication of actual profits but still gives an idea of the potential of selling on Amazon. A seller may have a monthly revenue of $1 Million but might not be generating any profits if its costs are higher than they should've been.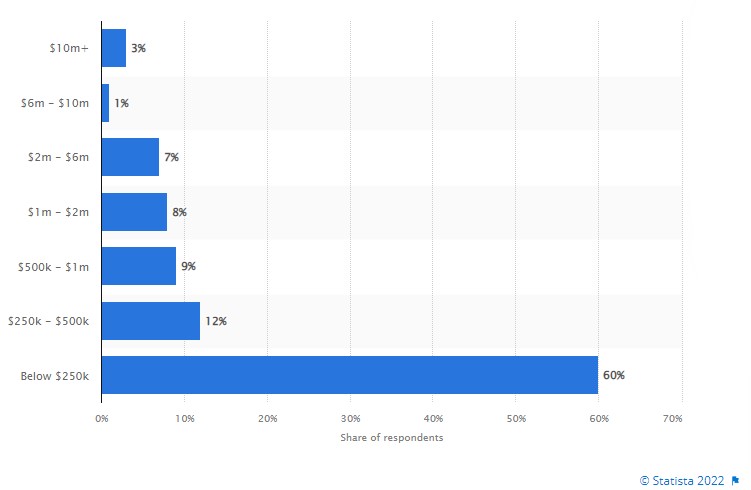 Source: Statista
According to profit margins, nearly 65% of third-party sellers on Amazon have earned 10% profit margins while 30% have earned around 20% profit margins.
Only 3% of Amazon sellers make profit margins from 55% to 100%. So is Amazon FBA worth it for these sellers? Perhaps, Yes.
How much do Amazon FBA sellers make monthly?
Amazon FBA is profitable. Sources indicate that individuals can earn over $1,500 a month with an appropriate business.
Amazon sells over 4,000 products per minute making $470 billion in 2021, up $82.8 billion from 2020.
This is growing each year and if you get a little slice of this pie, you are set. Moreover, it also depends on your sourcing, what products you choose to sell on Amazon and what is your profit per sale to identify if you will make enough profit on Amazon as a seller or not.
You can calculate your profit per sale by using Amazon's revenue calculator. So now, is Amazon FBA worth it in terms of profitability? Absolutely Yes!
Is Amazon FBA legit?
You might have asked yourself a question, is Amazon FBA legit or not? Yes, it is 100% legit, safe, and secure.
Amazon is a huge worldwide renowned company with an excellent reputation. The number of people Amazon reaches every day is enormous.
Listing your product on Amazon means that thousands of customers can find it at any time.
Amazon FBA is not a scam at all. Your money and products are in safe hands if you go with Amazon's FBA program.
How Does Amazon FBA Work?
FBA automates your fulfillment process.
Merchant ships inventory in bulk to an Amazon fulfillment center.
Merchant waits for inventory to get inbound.
Amazon stores the inventory in its warehouses.
When you make a sale, Amazon picks, packs, and ships the product to the customer.
Amazon manages customer support on your behalf and also regulates customer returns and refunds.
Learn More about Amazon FBA
Amazon FBA Fee Structure
Amazon makes a lot of money from the FBA program. Is Amazon FBA worth it if you need to pay so many fees? Let see. There are different kinds of fees you would want to take into consideration while planning to start FBA.
1. Subscription Fees
There are 2 kinds of seller accounts on Amazon: individual and professional.
An individual seller does not pay a monthly fee but instead is charged a flat $0.99 fee for each sale it makes.
A professional seller pays a fixed monthly $39.99 subscription fee.
To further understand between the plans click here.
2. Refund Fee
Because Amazon processes every refund request and handles everything, if a customer requests a refund and gets it, Amazon charges you a fee for it. Either $5 or 20% of the refunded amount, whichever is less.
3. FBA Fees
For every FBA order Amazon picks, packs, and ships for you, it charges you a fee. This is basically a fulfillment fee and it varies depending on your product's size, weight, and dimensions.
4. Referral Fees
Amazon charges every seller a fixed commission type fee for every sale made on the platform. This fee is called the Referral fee and is usually 15% but may also be 8% for a few category products under a certain selling price threshold.
5. Storage Fees
For FBA sellers, if you have any inventory sitting in any Amazon warehouse for more than a stated time, you are charged an additional fee every month known as the Storage fee. This is more like a penalty from Amazon. Therefore you would want to prefer smaller items that sell faster for FBA.
Want to know how DailyDealsCo can help you minimize these fees?
How long does it take to Start Selling on Amazon as an FBA Seller?
To be successful on Amazon, you need to work hard. If you are consistent and stay focused, it is possible to launch your first product within 3 months—just like 55% of Amazon sellers have done! 29% of sellers on Amazon launched their product in less than 6 weeks!
Don't be pressured into starting too quickly—14% of sellers took over 3 to 6 months or more to launch their businesses.
Take as much time as you need, and always feel comfortable at your own pace. So now you might think is Amazon FBA worth it if it takes a few months? Well, at least we should give it a shot.
Ungated categories for Amazon FBA.
The categories where approval is not required to sell on Amazon FBA are:
Amazon device accessories
Baby products
Books
Camera and photo
Cell phones
Clothing and accessories
Electronics
Health and personal care
Home and garden
Musical instruments
Office products
Outdoors
Sports
Tools and home improvement
Gated Categories for Amazon FBA.
The categories where approval is required to sell on Amazon FBA are:
Video, DVD, and Blu-Ray
Shoes, handbags, and sunglasses
Personal computers
Luggage and travel accessories
Grocery and gourmet food
Automotive and power sports
Industrial and Scientific
Beauty and Personal Care
Business products
Collectible coins
Toys and games
Fine art
Jewellery
Watches
Professional services
Want to get ungated on the top categories or products?
Fulfilled by Amazon Vs Fulfilled by Merchant
Sellers on Amazon can fulfill orders via two methods, FBM and FBA. FBM means Fulfillment by Merchant and FBA means Fulfillment by Amazon.
FBM clearly states that the seller/merchant is responsible for storing inventory in a warehouse and fulfilling orders itself. This includes picking, packing, and shipping the product whenever a sale is made. This may sound like a lot of work but is beneficial for small businesses that sell large-sized products and target less than 40 orders a month.
FBA is where you ship your inventory to one of Amazon's fulfillment centers and from there onwards, Amazon stores it in their warehouses, and whenever you make a sale, Amazon picks, packs, and ships the order. Amazon also handles customer inquiries and returns itself in FBA. FBA is convenient for sellers who aim to make bigger sales every month and sell small-sized products.
In case you aim to sell both small and large-sized products, you can opt for both fulfillment methods respective to your products. FBA for small-sized products which sell rapidly and FBM for large-sized products with slow sales.
Amazon Dropshipping: A Complete Guide
Want to know if FBM is worth it?
Pros and Cons of Amazon FBA.
Pros:
1. Location independence
Doing Amazon FBA, you are always geographically location independent. You do not need a fixed office place to sit and do your work.
You just need an internet connection and a laptop or even mobile only to operate your whole business online and earn.
With Amazon FBA, you never need to touch your inventory or even see it. Everything happens automatically online giving you peace of mind.
2. You are your own boss
With Amazon FBA, you are your own boss and are not answerable to anyone. You decide when to work, where to work, and what to work on. No begging any boss for a few holidays or vacations. You can do what you want to do.
3. Amazon's customer base
Amazon's monthly online user traffic is around 3 billion. There are a total of over 200 Million active Amazon prime customers worldwide.
With such a massive online customer base, you do not need to put much effort to reach customers.
Amazon has a good reputation worldwide and people trust the platform while shopping online. You can easily get good sales and grow instantly.
4. No need to handle logistics
If you use Amazon's FBA program, you send your inventory to Amazon's fulfillment centers, and from there, Amazon will handle the storage, order fulfillment, and even customer support for you. So you do not need to worry about any logistics.
5. Time-saving
By signing up for Amazon's FBA program, you get to focus on making your business grow and other things in life.
You can sleep peacefully, knowing that Amazon is taking care of order fulfillment and customer support 24/7.
You also do not stress out about customer returns and going to courier offices to ship your items.
6. Scalability
There is a high potential for scaling and growing your online business since you do not need to spend time managing fulfillment and other things related to orders and customers on Amazon with the FBA program.
You can spend your time focusing on scalability and growth of your store by adding more products to sell.
Cons:
1. Costs and fees
The upfront costs of Amazon FBA are quite high considering bulk inventory purchase, FBA fees, referral fees, storage fees, and other associated fees such as professional seller account subscription fees. All of these sum up to quite a huge amount and eat up your profit.
2. Return policy
Amazon has a very lenient "no questions asked" return policy which makes it very convenient for customers to return products but is a hassle for the seller.
In some cases, Amazon refunds the customer without asking for the product to be returned and some customers misuse this relaxed policy even if they've received their product in perfect condition without any faults.
3. Limited control
Once your inventory has been sent to Amazon and placed into the warehouse, you no longer have access to it.
You are unable to alter it in any way. Amazon packs it in its own packaging with its own label and order number etc. and you cannot change anything.
4. Competition
The market of Amazon is very saturated and is flooded with millions of sellers already and many more sellers joining daily.
There is a huge competition between sellers competing to get sales and win the Buy Box on Amazon. Nearly all sellers use the same tactics and techniques to price products and win sales, making it difficult to get sales all the time.
5. Slow cash flow
When a customer purchases your product, the amount does not immediately get transferred to your account. It takes a few weeks for the payment to be transferred to your account and disbursed to your bank.
This creates a gap in your cash flow and so you need backup investment in the meantime to keep your circle running smoothly.
Your responsibilities as an Amazon FBA seller.
1. Developing an in-demand product
You are about to enter a saturated market and make sales so you must launch or resell a winning product with high demand or potential. Therefore, it is important to do strong product research, profit calculation, and demand analysis before launching any product on Amazon.
2. Maintaining stock
Going out of stock can be quite irritating and a hassle if it's your first time. To stay in the game, you need to keep your stock levels up.
You will need some additional money and time to get the stock levels up again as there is always a slow cash inflow with Amazon FBA. Additionally, see the Amazon FBA inventory storage limits to maintain your stock and account health metrics accordingly.
3. Marketing
With 350 million products being sold on Amazon, you will need to invest in some paid marketing and advertising to be found by customers.
Initially, set your price a bit low since you have no reviews to compel customers to purchase your product. Once your product listing starts getting reviews organically, you can increase the selling price.
4. Regulate business smoothly
Since the cash flow is quite slow in Amazon FBA and the money takes a fortnight to get transferred to your bank, you need extra money to purchase more stock and keep inventory levels up. In short, you need investment and time to keep the operations running smoothly.
If you fail to do so, the business will come to a halt and cause frustration bringing it again to that pace.
Tips and tricks for Amazon FBA.
1. Try rare niches
There is a somewhat hidden scope to sell deluxe and premium products on Amazon as there is not much competition in such niches. Therefore, there is a better cushion for you to generate a better profit here.
2. Step up slowly
Do things one at a time instead of rushing to try many things all at once and failing. Set one goal and work to achieve it.
Once that has been done, move forward towards growth. For example, make a goal to launch 1 product in 1 month and work to achieve it. Once done, set another goal to make 50 sales in 1 month and work to achieve it.
3. Don't expect anything unrealistic
Being a new seller on Amazon, do not expect anything unrealistic like getting massive sales instantly once you list your product or getting rich overnight. It's not what it always seems like. It is never as easy as you think it may be. Similarly, don't be unrealistic regarding 100% positive customer feedback, some grumpy customers are always there to leave a negative reviews which might not be removed by Amazon in any case.
4. Try product bundles
Bundling products increases your chance of making sales by standing you out from the competition and this also reduces the fees.
Make sure you follow Amazon's bundling guidelines before you do so.
5. Use helping tools
A very important part of product hunting is to use online tools to assist you and make your work easy. There are many tools to help in all aspects of product hunting for Amazon such as Keepa, Helium 10, Jungle Scout, Scan Unlimited and Seller Amp SAS, etc. You can find more details regarding tools for Amazon here.
6. Don't go out of stock
Try to keep your stock levels up by timely replenishing your inventory. In case you run out of inventory, you lose sales and it disrupts the pace you were already selling at.
7. Don't let your inventory sit
Amazon does not want sellers to overflow its warehouses with their inventory lying there and not selling. Therefore, it charges a storage fee every month as a penalty and this also impacts your IPI being an FBA seller.
It is better to recall your inventory and liquidate it by selling on other platforms like eBay.
8. Build a brand
Reselling is fine for starting selling on Amazon but it is better to eventually move towards selling your own products and building your brand in the long run. It gives you more freedom and control over the product being sold.
DailyDealsCo Dropshipping and Wholesale Program
Alternatives to Amazon FBA.
If you do not wish to pay such huge fees for Amazon FBA, there is an alternative to it which is through 3PL companies. The bulk inventory you are required to send to an Amazon fulfillment center is sent to a third-party warehouse instead.
The 3PL (Third Party Logistics) company will store, label, pick, pack, and ship products on your behalf once you make a sale on Amazon. You may also use both simultaneously; a 3PL service for large items you wish to sell and Amazon FBA for small and lightweight products.
Here are some of the best 3PL service providers with the lowest rates which we recommend you:
Conclusion: Is Amazon FBA worth it in 2022?
Truly only you can answer the question, Is Amazon FBA worth it? Millions of e-commerce sellers use the FBA program. The fact that this program was launched in 2006 and is used by millions of sellers worldwide clearly depicts the massive success of the FBA program.
Yes Amazon FBA is worth it since the main operations related to order fulfillment and dealing with customer inquiries are overtaken by Amazon, which takes off the major burden for a new seller. Rather, you can focus on other things to grow your business.
To answer the question is Amazon FBA worth it, you need to run the numbers and evaluate whether you will make a sufficient profit or not with Amazon FBA or a 3PL and then choose wisely. You need to take into consideration all factors; how many units you plan to sell monthly, what must be your minimum return on investment, and what should be your minimum profit margin per sale, etc.