Amazon Dropshipping is a simple method for selling products that you do not have to stock in your warehouse.
In this article, we will discuss what dropshipping is, how it works and why it may be right for your business.
Amazon is a giant e-commerce marketplace in the world.
It's available to anyone, including sellers here in the world who can take their business online by selling products through it.
Because of the ease and low cost of getting started, we think Amazon dropshipping can be an excellent way to make money online.
Given the popularity of Amazon dropshipping, there is plenty of information available about how to do it. However, does Amazon dropshipping work?
This guide will explain everything regarding dropshipping, including how to get started, what your costs are, how much profit will you make as a drop shipper, and more – let's dive into all the details!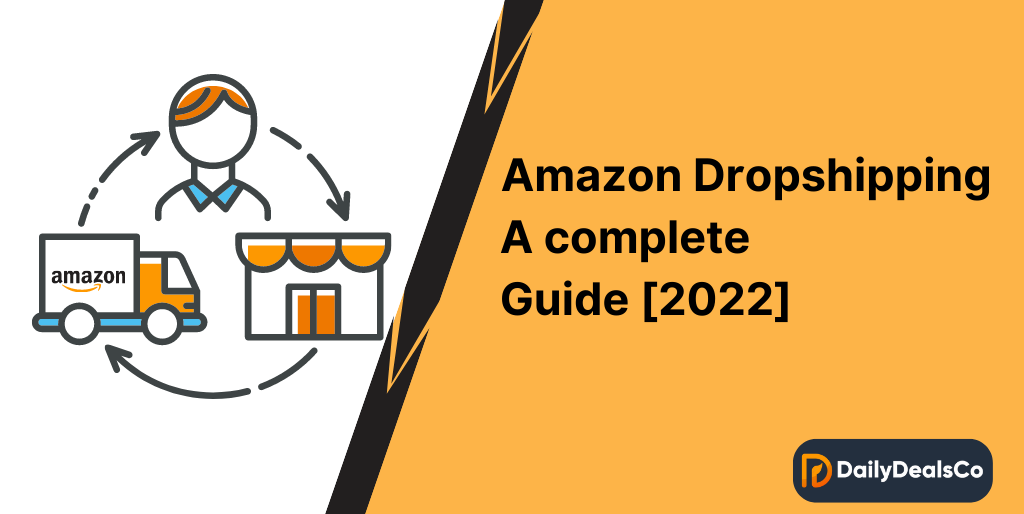 The main topics we will cover here are,
What is Amazon?
What is Dropshipping?
Is it Legal to Dropship on Amazon?
Cost to Dropship on Amazon?
Is Amazon Dropshipping Profitable?
Benefits and Drawbacks of Amazon Dropshipping?
How to start an Amazon dropshipping business?
What is Amazon?
Founded in 1994, Amazon is an e-commerce giant with a worldwide presence. It sells products direct to consumers through its website and also has an extensive third-party marketplace. Amazon launched its Fulfillment by Amazon (FBA) in 2005 and later expanded it to its international market.
Want to know about Amazon Wholesale?
What is Dropshipping?
Before discussing Amazon dropshipping, let us give you a quick overview that how dropship works in general.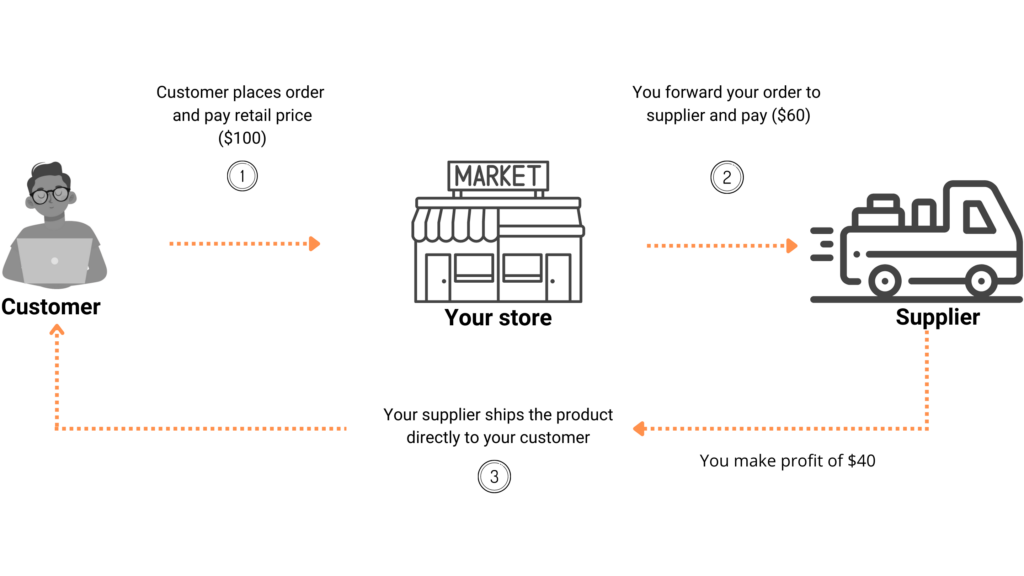 Dropshipping is a strategy to sell products from your eCommerce website directly to customers.
This business model allows merchants to sell their goods without having large inventories or storage facilities.
It is ideal for sellers who have no desire to handle large orders or keep up with inventory.
Is it legal to Dropship on Amazon?
So, let's discuss how can one do dropshipping on Amazon. Many sellers on Amazon prefer sending out the packages to customers by themselves and Amazon allows that practice.
Before starting dropshipping on Amazon one must study the Amazon Dropshipping policy.
So, the answer to the above question is Yes. One can do dropship on Amazon as long as you play by the rules. Which are as follows:
One must be the seller of the record. This means that you should have proof that you shipped out the package by yourself, not by any other means.
Recognize yourself as the seller of your items on all slips and other data included.
Be liable for tolerating and handling client returns of your items.
Cost to Dropship on Amazon?
Before you start Selling on Amazon, you must understand the fees.
Amazon requires everyone to signup as a seller on their site. Whether you choose a professional plan or as an individual, both of these have different fees.
If you signup as a professional you pay $39.99 to Amazon in the case of an individual you signup as free but pay $0.99 per item sold.
Advantages of signing up as a Professional Seller on Amazon:
No listing limitations
You get to sell more than 40 units per month
Get access to Amazon Advertising
Get access to advanced tools, like APIs and report
Get to sell in additional categories
Set your shipping rates and many more things.
Amazon has a referral fee for selling on its platform. This refers to a percentage of your product sales that come from people who found your products through Amazon or recommended you to other buyers. The percentage is usually between 10% and 15%.
Learn more about the Amazon referral fee.
How to Start Dropshipping for free?
Is Amazon Dropshipping Profitable?
Amazon dropshipping is a popular way to earn extra money. It's also a common question: How much is it profitable? How much can you earn from it, Depends on what you're selling.
Now let's talk about how much you can earn from Amazon dropshipping.
This will vary depending on the product, its market niche, and your marketing skills. If you sell a best-seller with low competition and high demand then you can earn more than $1 per sales transaction.
If your product isn't popular or doesn't sell well, it won't be as profitable for you.
The most profitable products are usually those that address a particular need or serve a very specific audience.
In case you get a Buy Box (Featured Offer) on amazon then there is a high chance that your sales and profits will increase a lot but it's highly competitive and not something to follow at the start.
Learn more about how Buy Box Works.
Benefits and Drawbacks of Amazon Dropshipping?
Benefits of Dropshipping on Amazon
Amazon dropshipping can help you grow your business by providing you with a large audience, multiple categories, and no warehouse cost.
Large Audience: Amazon has a massive user base and is the number one retailer in the world. If you're looking for an audience, this is one of the best places to start.
Multiple Categories: When you sell on Amazon, you can choose whether or not to list products in multiple categories (such as Kitchen, Beauty, Sports, and Electronics). This means that if you have a product that isn't quite fitting into any specific category, it will still be listed on Amazon.
No Warehouse Cost: The costs associated with storing inventory and packaging come out of your pocket—there's no warehouse fee or storage fees!
Multiple Suppliers: You don't have to deal with all of your suppliers at once! By using Amazon dropshipping, you can work with multiple suppliers and store their products in separate warehouses so they can be shipped from one location instead of from yours—saving time and money along the way!
If you are interested in saving money and generating more revenue, Amazon dropshipping is for you.
Drawbacks of Dropshipping on Amazon
Here's a quick rundown of why you might want to consider other options:
Low Profit Due to Competition: One of the downsides to dropshipping on Amazon is that you'll be competing with other vendors who are already established in their industry and have a customer base. This means there's a high risk of losing sales—and making less money—in the short term.
Inventory not in control: With dropshipping on Amazon, you must control all aspects of the inventory. If you're not careful, you could also find yourself facing issues with inventory management. Due to the nature of logistics, you won't be able to control how much stock is available. This means that if something goes wrong with your product (for example it might break- or a customer may not receive their order on time), any delays could lead them refunds from Amazon.
Shipping: Delays are common because the fulfillment center has no way of knowing exactly when packages will arrive at their destination, so they'll often delay them by a few days or even weeks.
How to start an Amazon dropshipping business?
Here's everything you need to know about getting started with Amazon dropshipping and setting up your store:
1. Create a seller account
2. Find products to sell
3. Request approval from Amazon to sell
4. Select your vendor
5. List products to your store
Creating a seller account
Creating an Amazon seller account is the first of many steps you will take when starting your own e-commerce business.
You'll need to provide some basic information about yourself and some of your products, but don't worry—it's pretty easy! All you have to do is click "Start Selling" and follow the instructions.
You will be asked to provide information about your business, such as its address and tax details, as well as other identity-related documents.
If you sign up as a professional seller, Amazon will charge your credit card $39.99; if you are an individual seller, however, and only sell one item per month (so not worth the fee), then it's free for that period but when you do finally meet the minimum requirement—and become eligible for extra features like inventory management tools—then start paying $0.99 per item sold on top of this initial setup cost.
Find products to sell
Once you've created an account, the next step is to search for products on which to sell. You can do this by entering keywords that relate to or describe the product you're selling—for example, if you're selling dog food, type in "dog food" and see what comes up.
Here are some strategies that will help you get started:
Build a year-round business by specializing in products that people need all the time.
Products that are both obscure and useful tend to be more successful.
Register yourself with the Dailydealsco reseller program and get the ability to find suitable products.
Best Dropshipping Products to sell in 2022
Request approval from Amazon to sell
To be eligible to sell your product on Amazon, you must meet certain requirements and follow specific rules.
Take a look at Amazon's list of restricted products to make sure you don't sell any of them. In case you want to sell them you will have to get approval from Amazon
Once you have found products that interest you, go to your Seller Central dashboard and search for those ASINs. Then click "Request Approval" (just below "Sell Yours Now > Apply Now").
Additional category guidelines to list and sell products in these categories.
Select your Vendor
Look for a vendor who sells what you want to sell and ask if they're willing to partner with you. You can contact them directly or use the form on their website; either way will get results!
If they do have concerns, ask them to explain what their issues are so that you can address them before the marketplace launch.
Once you've found a vendor that has the products you're looking for and they have stock available, it's time to choose which of their items will work best as dropshipping goods.
You'll want to find an Amazon dropshipping supplier with the following qualities:
Products you want to sell
Fees associated with membership
Good wholesale pricing
Fast shipping
Helpful tools for turnkey success.
No brand name (make sure they don't have any branding on their packaging)
DailyDealsco offers an amazing selection of premium, specialty, and gourmet goods with a focus on natural and organic products.
List products to your store
Once you've found a vendor, it's time to list items in your store! This is where all the magic happens. You'll need to determine which products will be offered for sale—as well as how much each item costs and when it can be purchased by customers.
Also, ensure that there is enough of each product for sale. Keeping that in mind that customers should be able to easily find the products you sell by using Amazon's search function (or "buy").
Five Tips for Building a Successful Amazon Dropshipping Business
Now that you've seen how profitable Amazon dropshipping can be, let's discuss the steps to success as an online retailer.
Of course, starting a dropshipping business on Amazon is easy. But succeeding with dropshipping on Amazon takes work—and patience too.
These five tips will help you succeed with dropshipping.
Winning the Buy Box
83% of all sales made on Amazon come through the "Buy Box", which is where sellers are displayed with the ADD TO CART next to their name. This means that your goal as a dropshipper is to win the Buy Box so you can maximize your profits like an experienced seller would.
It's not enough to just be selling your products—you need to make sure that people who search for those products will find them, which means having a high seller rating and appearing in the buy box.
To get your product into this coveted spot, make sure that it's both high-quality and well-priced. Anything less than a 95% seller rating will do little to help your chances of getting listed in Amazon's search results—so keep that in mind when pricing items!
Choose A Promising Dropshipping Supplier
Building a successful business on Amazon is no easy task. You'll need to find the right supplier for your dropshipping needs, and not only that—you have to make sure you choose one who will be able to meet future demand by providing adequate quantities of products at competitive prices.
Once you have compiled a list of possible suppliers, ask them the following questions:
What are the costs?
How can I sign up for this program?
What fees will I have to pay?
Will the supplier also sell in bulk as a wholesaler—or do they just drop ship directly to me and my customers, without connecting with wholesale suppliers
themselves (this is good)?
Can they guarantee customer satisfaction and offer refunds if needed—and how long do we have to return something after purchase before it becomes too late?
After asking these evaluate them on the above and the following:
How's their customer service?
Are they available 24/7?
How much inventory do they hold for each product, and so on—these are all factors that affect how long you will have to wait before your products arrive.
By taking a comprehensive approach to analyzing the pros and cons of your options, you will be able to make the best possible decision for your store.
Know What to Buy and Then Set the Price
When you're first starting your business, it's typically best to choose a niche (a specific type of product or service) that has low competition and high volume: there are lots of customers who want what you've got but not many others selling it.
When choosing products for your dropshipping business, make sure to consider things like:
How well does this product sell?
Can I make a 10% – 20% profit margin from this?
Is it bulky or small?
How much shipping will it costs me if I choose it?
How many different sellers can you compete against?
Is there enough demand for this product on Amazon?
There might be plenty of people willing to buy from you without having to go through all the trouble of setting up an entire eCommerce store.
Each option comes with its own set of advantages and disadvantages. If you choose to sell well-known brands, however, you might have trouble competing with large retailers who offer lower prices and quicker shipping times than what your small business is likely able to provide.
Learn more about the dropship program Dailydealsco offers.
Keep your prices low
Although selling on Amazon makes it possible to earn a profit, you can't charge more for your product than what other sellers are charging. Your goal is to become competitive to attract customers and ensure that each sale doesn't lose money.
To stay competitive, you must set your retail prices at a level where you can still make a profit—usually between 10% and 20%.
Strengthen Your Reputation As a Seller
Your reputation as a seller on Amazon is one of the most important factors in determining your success—the more customers trust and buy from you, the more likely they are to make repeat purchases.
You want people to enter the store thinking, "Wow! They're selling some cool stuff!" and not nod of recognition when seeing you.
You'll need to educate your potential customers about the product or service you provide, so they feel confident in their purchase.
If you sell a product that is similar to one that has already proven itself, people will trust your claims about the new product and be willing to pay more for it than they might otherwise.
Consistency: it's important to be consistent with your product listings, reviews, and content on all of your different platforms—Amazon, eBay, etc. If you only focus on one platform but stop doing everything else then people will notice.
2. Keep it current: A brand that appears to have been left behind by time is not one that customers will trust! Update your page with new photos or videos every few weeks or months (depending on how much work this requires).
3. Sellers should have a professional website because an attractive presence can build trust among potential buyers.
Advertise your Amazon dropshipping business
To build a successful Amazon dropshipping business, you must advertise.
You can use social media platforms such as Facebook, Twitter, and Instagram to spread the word about your book. You may also want to promote your work on blogs or other sites that attract similar audiences. Effective ad campaigns target consumers most likely to purchase the product.
Create a website to showcase your work – Building a successful Amazon drop shipping business starts with creating a high-quality website. This will help you attract new customers who want to buy from you instead of other sellers on Amazon.

Make your price policies clear – One of the most important decisions a website owner can make is setting prices for products in different categories. It's common to believe that higher-priced items are better than lower-priced ones, but this isn't always true!

It's critically important for sellers on Amazon to have clear pricing policies so that customers can easily understand how much they'll pay.
Work with DailyDealsco as your supplier
The choice is clear: work with DailyDealsco to build a profitable Amazon store.
We're a wholesaler and dropshipping supplier that will work seamlessly with your Amazon store. We've been in business for a few years, so you can trust us to provide the best quality products at competitive prices.
We offer a wide selection of products, with low shipping rates and no additional packaging or fulfillment fees.
Join DailyDealsco today, and begin building your own dropshipping or wholesale business.