Selling on Amazon is an easy and affordable way to start a business. If you're looking for a way to grow your brand and sell products online, the Amazon wholesale business is the best way to do so.
Amazon has been growing rapidly in recent years, becoming the world's largest e-commerce platform. This means that their customer base is rapidly expanding, so there are more customers than ever looking for what you have to offer.
There are more than 6.3 million third-party Amazon sellers in the whole world who use this platform to sell millions of products to consumers worldwide.
Among these 6.3 million sellers, a whopping 26% sell products via Amazon wholesale. Selling on Amazon in 2022 has become a very lucrative way to earn a good amount online in the e-commerce field. This complete selling guide will take you through every step of the Amazon wholesale business.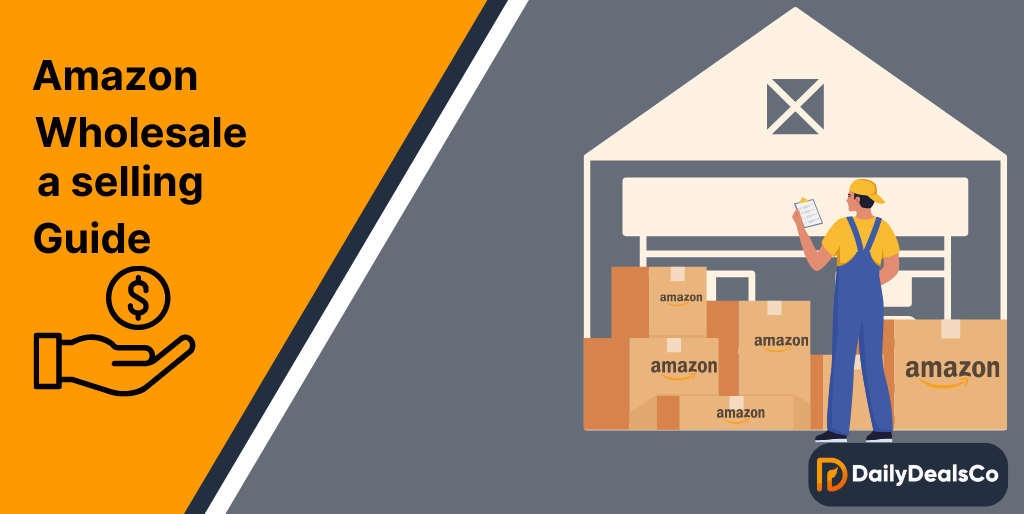 This post will cover how one can start an Amazon wholesale business. The key points which will be covered are below:
What is Amazon Wholesale?
Requirements to sell Wholesale on Amazon?
Amazon Wholesale Fulfillment Methods (FBA vs FBM)
Pros and Cons of Amazon Wholesale Business

Pros of Amazon Wholesale Business
Cons of Amazon Wholesale Business

Amazon Wholesale Vs Amazon Dropshipping
Amazon Wholesale Vs Amazon Arbitrage
Amazon Wholesale Vs Amazon Private Label
How to start an Amazon Wholesale Store
Finding Amazon Wholesale Products
Understanding Buy Box
Understanding Amazon Wholesale Fees
Requirements for Opening a Wholesale Account with a Supplier
Best tools for Amazon Business Wholesale
What is Amazon Wholesale?
When you buy goods or products in bulk directly from a manufacturer at wholesale prices and resell them on Amazon at retail prices, you are running an Amazon business wholesale.
Amazon wholesale is done by your orders fulfilled by Amazon. The massive online marketplace provides a large customer base and makes it easier to reach customers and sell your products instead of building your wholesale website and ranking it to reach some audience.
We will briefly discuss these two methods further in this article.
Requirements to sell wholesale on Amazon.
Selling wholesale on Amazon isn't as easy as it seems. For becoming an Amazon business wholesale, it is necessary to acquire authorization from the brand or parent company to resell its products on Amazon.
After getting approved as a seller on Amazon, you would like to find brands with high demand in the market and see if they allow reselling their products on Amazon or not. Another requirement is a large budget to operate an Amazon wholesale business because most brands and suppliers have a minimum order quantity (MOQ).
In addition to this, suppliers and brands require your business to be registered to purchase in bulk at wholesale prices for resale. This article will answer all your questions related to different aspects of the Amazon wholesale business.
Learn how DailyDealsco Dropship & Wholesale Program can help you out.
Amazon wholesale fulfillment methods (FBA vs FBM)
Once you purchase products in bulk from a manufacturer, brand, or supplier and are ready to sell them, you have two ways. Fulfillment by Merchant (FBM) and Fulfillment by Amazon (FBA).
Fulfillment by Merchant (FBM) means you are responsible for storing the inventory and whenever you receive an order, you pick, pack, and ship the product to the customer.
You are responsible for handling all customer inquiries by providing customer support and processing customer returns and refunds.
The core motive is to remain the seller of record for all orders you ship. You need to keep a track of all your orders and sales manually or may get the help of paid tools.
Fulfillment by Amazon (FBA) means that you ship your inventory in bulk to one of Amazon's fulfillment centers and once your inventory is received, inbounded, and live, Amazon is responsible for storing, picking, packing, and shipping your products.
In addition to this, Amazon also provides customer support, return handling, etc. for your products. Amazon tracks all orders and provides detailed reports monthly.
This article will discuss FBA Wholesale in detail as it is the most preferred method.
Looking for a Logistics and Warehousing service.
Want to know if Amazon FBA is worth it?
Pros and Cons of Amazon Wholesale Business
No business model is perfect, each has its perks and drawbacks. We will discuss all positive and negative points of the Amazon wholesale business step by step.
Pros of Amazon wholesale business.
Here are 11 advantages of Amazon wholesale:
#1. Low competition
There is low competition among Amazon wholesale sellers due to low chances of getting approved for resale by the brand. Furthermore, Amazon may also sometimes require brand approval proofs which filter out the authentic resellers for Amazon Wholesale. Due to reduced competition, there are higher chances of winning the Buy Box.
#2. Quickstart
Apart from the time-consuming part, contacting different brands to acquire approval for reselling their products and getting your stock in bulk, the rest of the process is very efficient and time-saving. You are likely to start running your Amazon wholesale store in only six weeks which is way less than private label sellers who need at least an average of six months.
#3. More profitability
Since your purchase price per item is low, and you resell at a higher price, the difference is your profit. Amazon wholesale ultimately leads to good profitability in the long run once you build a good business relationship with a supplier or brand. Some brands also offer additional quantity discounts for bulk purchasers.
#4. Higher chance of sales
Since Amazon already has a huge developed customer base, you do not need to spend time growing your store and reaching more customers. Also, since certain brands keep a strong check and balance on all marketplace sellers reselling their products and remove inauthentic ones without proper brand authorization, you have a higher chance of getting more sales.
#5. Growth and scalability
Since you do not need to handle all fulfillment operations manually, you can spare time and focus on scaling your business and growing your team. FBA wholesale allows you to utilize your time for other things and add more value to your store by contacting more and more brands and growing your inventory.
#6. Time-saving
Unlike arbitrage, you don't need to spend time visiting different stores physically to find deals and purchase products at low prices. Once you find a good supplier and develop a good business relationship with them, your work becomes efficient and less time-consuming.
You can just replenish your stock easily online and save a lot of time. This gives you peace of mind and time leverage so you can spare some time for yourself as well.
#7. No marketing required
By doing Amazon wholesale, you are simply selling well-known products of reputable brands with high demand and therefore, do not need to market these products to get sales. You are adding value to the brand's existing product.
#8. Established product demand
You do not need to build a brand from scratch like a private label business. You can sell well-established brand products which consumers are already searching for and buying. Since there is already a demand for the products you sell, you do not need to worry about doing any marketing efforts.
#9. Lower risk
If you acquire your stock directly from the brand or a well-reputed supplier, you do not need to worry about any risk of complaints related to inauthentic products being received by your customers.
Sellers on Amazon may get suspended due to selling inauthentic products, hence Amazon wholesale prevents this risk as well.
#10. Fast shipping
In FBA wholesale model, your products are stored, picked, packed, and shipped by Amazon so you do not need to worry about any troubles with these steps. Amazon takes care of all these operations and provides very fast shipping to its prime customers. In addition to this, Amazon also takes care of customer support for you.
#11. Controlled pricing
Brands usually implement strict rules related to their product pricing policies on marketplaces. This is why brands usually have a MAP policy which means Minimum Advertised Price Policy.
This policy restricts all resellers not to sell the product below a stated price. This ultimately prevents sellers from dropping their prices too low just to get more sales and eventually all sellers get sales almost equally.
Cons of Amazon wholesale business.
We have briefly discussed 11 disadvantages of Amazon Wholesale below:
#1. Low chance of brand approval
For newbies, it is mostly tough to get approval from brands to resell their products. Some brands require a brick-and-mortar storefront to get approved for reselling their products while others may require an established sales history. The bigger a brand is, the smaller you are for them.
#2. Amazon brand restrictions
There is usually a brand restriction on Amazon for listing certain items which may cause frustration and compel you to drop those selected products and find other ones.
This makes your product hunting and researching longer and more difficult. Therefore, being a wholesale seller, you need to purchase from authentic suppliers or the brand itself and have proper documentation in place instead of buying from any liquidator or close-out deal.
#3. Large capital required
FBA wholesale requires a large budget because it requires you to purchase inventory in bulk which is an upfront cost. Therefore, this business model is generally more expensive than arbitrage and dropshipping.
#4. No control over the product
Being a wholesale seller on Amazon, you have no control over the continuity of any product or its supply chain.
The manufacturer may discontinue the production of any specific product whenever it wants and this may impact you as well. Also, the brand may change any policy anytime and you cannot do anything because you do not have any control over the advertised price or the price at which you purchase the product.
#5. Need for constant diversification
You constantly need to diversify as you cannot solely rely on just one product, brand, or supplier.
There is always a need for finding new brands and suppliers so if unfortunately one product discontinues or encounters any issue, you do not have to face any loss.
#6. No own recognition
You do not have any own recognition as customers do not know you but only the products you sell. This way you are just like the many other fish in the sea and are not distinct in any manner.
#7. MOQs from suppliers
Suppliers, wholesalers, and brands usually require you to purchase inventory in bulk no less than a specific defined number of units.
This is referred to as a Minimum Order Quantity (MOQ). This is the reason why a large budget is required for starting an Amazon wholesale business.
Do not worry DailyDealsCo will help you in this matter
#8. Need for 3PL services in some cases
In some cases, a supplier or brand may not provide labeling and shipping directly to an Amazon fulfillment center. Therefore, in such scenarios, you would need to get the inventory shipped to a 3PL warehouse for UPC barcode labeling and ship it to the Amazon fulfillment center. This step incurs an additional cost.
What does our Amazon FBA Prep Includes?
#9. Amazon FBA fees
Amazon wholesale done via FBA is not free. Just like any other 3PL warehouse service, Amazon also charges a fee for storing, picking, packing, and shipping your products from its fulfillment centers.
This is usually referred to as the FBA referral fee. This fee may be higher than what other 3PL warehouses charge you.
(PRO TIP} If your items are oversized or sell very slowly, you may incur additional storage costs from Amazon for using their warehouse. Aim for small and lightweight products for wholesale.
#10. Lost inventory risk
Suppose you ship your bulk inventory to an Amazon fulfillment center and after Amazon receives the inventory it gets lost.
In this case, you can raise a claim for your inventory with Amazon and after an investigation regarding the lost inventory, if Amazon is proven guilty of the loss, you will receive your amount paid for the inventory and shipping back after 60 days. If Amazon fails to identify itself for the loss, you do not get any reimbursement.
#11. The slow inbound time during peak season
Whenever you ship inventory to an Amazon fulfillment center, it takes some time to get inbound and go live on the website.
During peak sales seasons like Christmas, Easter, Halloween, New Year, and winter holidays, the inbounding time goes too long and may take up to 1 month for your inventory to go live. This means no sales for that product for 1 month if you are already out of stock on the Amazon listing.
Amazon wholesale vs Amazon Dropshipping
Dropshippers on Amazon get good sales without initially purchasing stock and storing it.
When Dropshippers receive an order, they forward it to their dropship supplier who fulfills the order and ships it to their customer.
You can learn more about Amazon Dropshipping here. The positive point here is that drop shippers do not have to pay for any upfront initial costs or pay storage costs like wholesalers.
Contrary to this, Amazon wholesalers are required to purchase inventory in bulk first and store it either in their warehouse or more commonly in Amazon's warehouse which fulfills orders via FBA.
Amazon wholesale is a long-term and safer method of reselling branded products because you have written brand approval for resale whereas drop shippers normally do not have authorization and may face suspension issues on Amazon.
Amazon wholesale vs Amazon Arbitrage
It is defined as the process of finding products and purchasing individual items from retail stores or websites at a discount and reselling them on Amazon, at retail price for some profit.
On the other side, wholesalers buy goods in bulk directly from brands at discounted prices and resell them at a retail price making bigger profits as compared to arbitrage.
Amazon arbitrage requires constant effort to find, buy, pack, and ship products from retailers to Amazon customers but for Amazon wholesale, you do not need to input as much effort and time. Once you find a good supplier, your supply chain gets streamlined and the replenishment process becomes smooth.
Amazon wholesale vs Amazon private label
Amazon wholesale and private label models share the same advantages: reliable inventory sourcing from manufacturers, and the potential for scalability of the business as a whole.
However, the main difference between selling Amazon wholesale and selling via private label is the amount of time it takes to set up each business model, as well as how much competition you'll face once your product is available for sale.
Amazon wholesale has an upside regarding the time it takes to build the business and get sales since you sell already established brand products with a demand. In private labels, you need to create your brand from scratch and market your product to develop a customer base.
The downside of selling wholesale on Amazon is the high competition you face as compared to less competition in selling private labels on Amazon. In wholesale, you not only compete for customers but also with other sellers to win the Buy Box.
How to start an Amazon wholesale store.
Click here to create your Amazon Seller Account.
You will see 2 options to sign up either as a Professional seller or an Individual seller. Since we are going for Amazon wholesale business, we prefer to choose Professional Seller from the 2 given options.
The individual seller account is free but Amazon charges $0.99/item sold + additional selling fees (usually 8-15% of the selling price) for each sale you make.
Individual seller account has a selling limit of 40 units a month.
The Professional seller account is for $39.99 per month + additional selling fees.
We recommend a Professional seller account as it has no 40 units a month sales restriction, allows access to sell in restricted categories, set your shipping rates, runs Amazon Ad campaigns, and also provides access to advanced selling tools and reports.
Finding Amazon wholesale products.
There are millions of products on Amazon, which means finding the right product to sell can take a very long time.
Be sure to avoid products sold by Amazon or private label sellers when doing your research.
While it may seem like a good idea at first glance, keep in mind that Amazon can easily outplay you by dropping their prices way lower than their competitors, making you lose money.
There are a few things you would want to take into consideration while finding Amazon wholesale products:
#1. Product Demand
The key point of finding Amazon wholesale products is to find products in high demand already. This way your Amazon wholesale store will kick start rapidly and start making sales. Otherwise, you will face other challenges such as no sales.
Be sure to use different tools to help you see if a product is generating sales or not. We will discuss helpful tools for amazon wholesale further.
#2. Competition
Competition matters a lot for the success of your business. You need to know how many other sellers are offering the same product in the listing under which you wish to sell as well.
Too much competition may cause difficulties for you to be found by customers, especially for newbies.
#3. Profit
You carefully need to analyze and calculate if you can make a decent profit on each sale or not. If you make a profit in pennies per product sold, it's going to take you a long time to reach your goal.
Try finding products that give you a decent profit per sale.
Carefully write down your cost per unit, shipping per unit, referral fees, applicable taxes & charges and then choose a selling price and calculate your profit per unit.
Look for products that are small and lightweight as their fulfillment fees are less than normal items.
Read more about Amazon's small and light program.
You may also try to reverse source products by choosing a product and then searching for suppliers who carry it.
Understanding Buy Box
Buy Box is the section listing where you see 2 yellow buttons which are "Add to Cart" and "Buy Now".
If a buyer clicks any of these buttons, it simply adds the product to their cart, and the seller who has the Buy Box gets that sale.
Most buyers purchase this way without choosing a specific seller they'd like to buy from and this is the reason why roughly 82% of all Amazon sales are made through Buy Box.
Any seller who has the Buy Box for a listing on Amazon has a competitive edge over other sellers.
Not all sellers are eligible for a Buy Box. To win the Buy Box on Amazon, you must: have:
Low Order Defect Rate (ODR)
Meet Amazon's seller performance metrics
Provide excellent customer service
Have a long history of selling products effectively
Register yourself as a Professional seller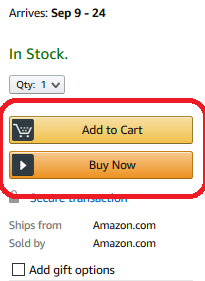 Understanding Amazon wholesale fees.
Selling wholesale on Amazon is not free just like any other method. For running your amazon wholesale business on a large scale, it is convenient to opt for FBA as it takes a lot of burden off your shoulders.
For the order pick, pack, ship, and customer support and also storage of your products, Amazon charges a fee known as Amazon referral fees.
Other fees charged are FBA fulfillment fees, monthly storage fees, variable closing fees, and return processing fees.
Since Amazon does all the manual labor for you, its fees are justified.
Requirements for opening a wholesale account with a supplier.
Search for suppliers who carry the product you've chosen and approach them in a persuasive but professional manner.
Suppliers, wholesalers, and brands have some pre-requisite things defined to give you a wholesale account with them which are:
Register your business
You must register a legal business entity or do business as a sole proprietor in your state. Your business must have a name and state you as its Director.
Resale certificate
To purchase products for resale without paying any tax, you will need a resale certificate from your state in the US. Wholesalers, suppliers, and brands require this to allow you to purchase tax-free.
EIN
An Employer Identification Number (EIN) or Federal Tax Identification Number (FTIN) is a social security number for your business.
You can receive an EIN for free from the IRS.
To register your business get in touch.
Best tools for Amazon business wholesale.
#1. Keepa
We have chosen Keepa over Helium 10 because it is better at showing product stats. Keepa displays Amazon's full category tree, detailed product details, sellers, sales history, historical prices, Buy Box stats & rotation, etc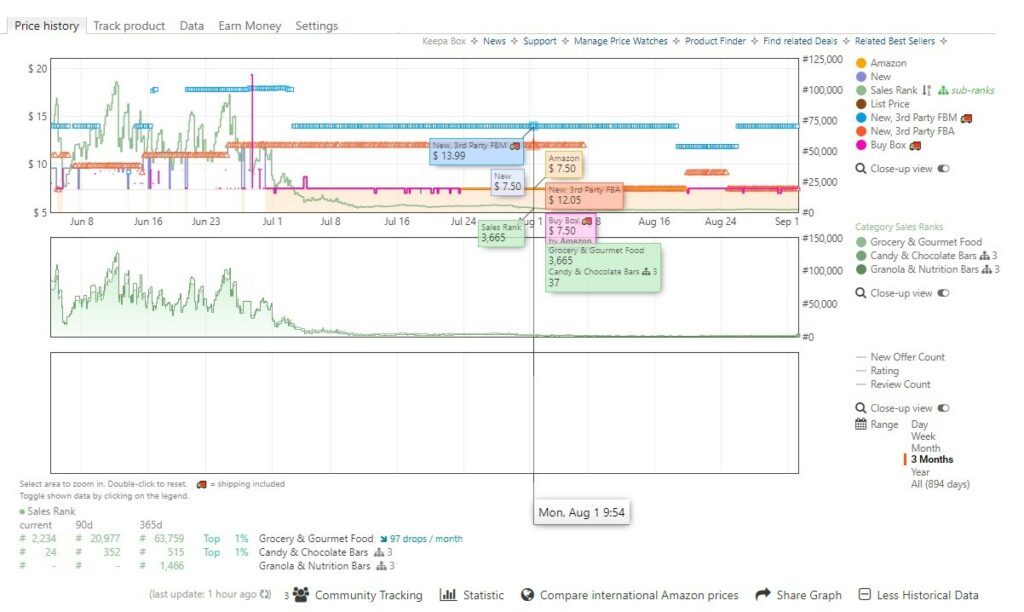 #2. Scan Unlimited
Scan Unlimited is used to efficiently scan the product feed you get from your supplier and find profitable, fast-selling products on Amazon.
It can help you spot any potentially infringing products before listing them.
This will make your hunt for products more efficient.
#3. Seller Amp SAS
Seller Amp SAS is a very comprehensive browser extension that runs on the Amazon product page and provides a profit calculator, Hazmat or dangerous goods alerts, BSR history, estimated sales, and much more.
#4. DS Amazon Quick view
DS Amazon Quick View is a browser extension that displays additional information on the Amazon search results page.
When the extension is installed you'll be able to see a product's sales rank, ASIN number, and information indicating whether it is sold by Amazon, an FBA seller, or an FBM seller.
It's a time-saving method of finding products to sell as an Amazon Wholesale.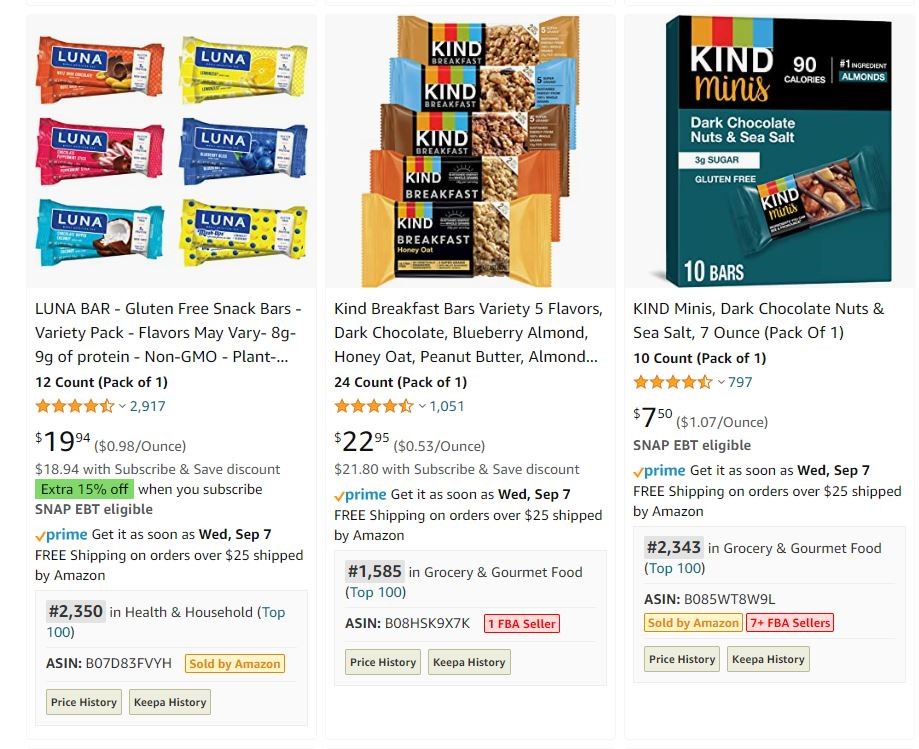 #5. OS Seller Addon
This extension runs on an Amazon product page and shows you the current stock of every seller in that listing. This gives you an idea about the listing competition and the time for your competitors to go out of stock.
Conclusion:
Amazon is a great place to sell products. It offers enormous potential to people seeking a work-at-home career.
Amazon Wholesale makes it possible for sellers to broaden the scope of their operations by providing them with affordable storage space, competitive terms, and a wide selection of products.
If you're an established brand or work with one, the best way to reach more customers is by lowering prices.
In the end, this is just one of many ways to successfully sell your products on Amazon. If you're looking for a way to make more money with less effort involved, try selling as an Amazon Wholesale.