Product returns are one of the biggest challenges for Amazon and other sellers on the Amazon Marketplace. The return rate for products ordered online is around 30%. It is comparatively higher than the return rate of products bought from physical retail stores, which lies at approximately 8.89%. In addition, the flux of returns has increased massively because of flexible return policies.
According to Invesp, 92% of consumers will repurchase something if returns are easy. In addition, 79% of consumers want free shipping on returns. Returns are a convenience for buyers but a hassle for sellers.
In 2017, Amazon released a new policy related to returns. This policy was the returnless refund policy. This policy allows customers to get a 100% refund and keep their ordered items.
According to Amazon, sellers highly requested this policy. This article will guide you through Amazon's returnless refund policy.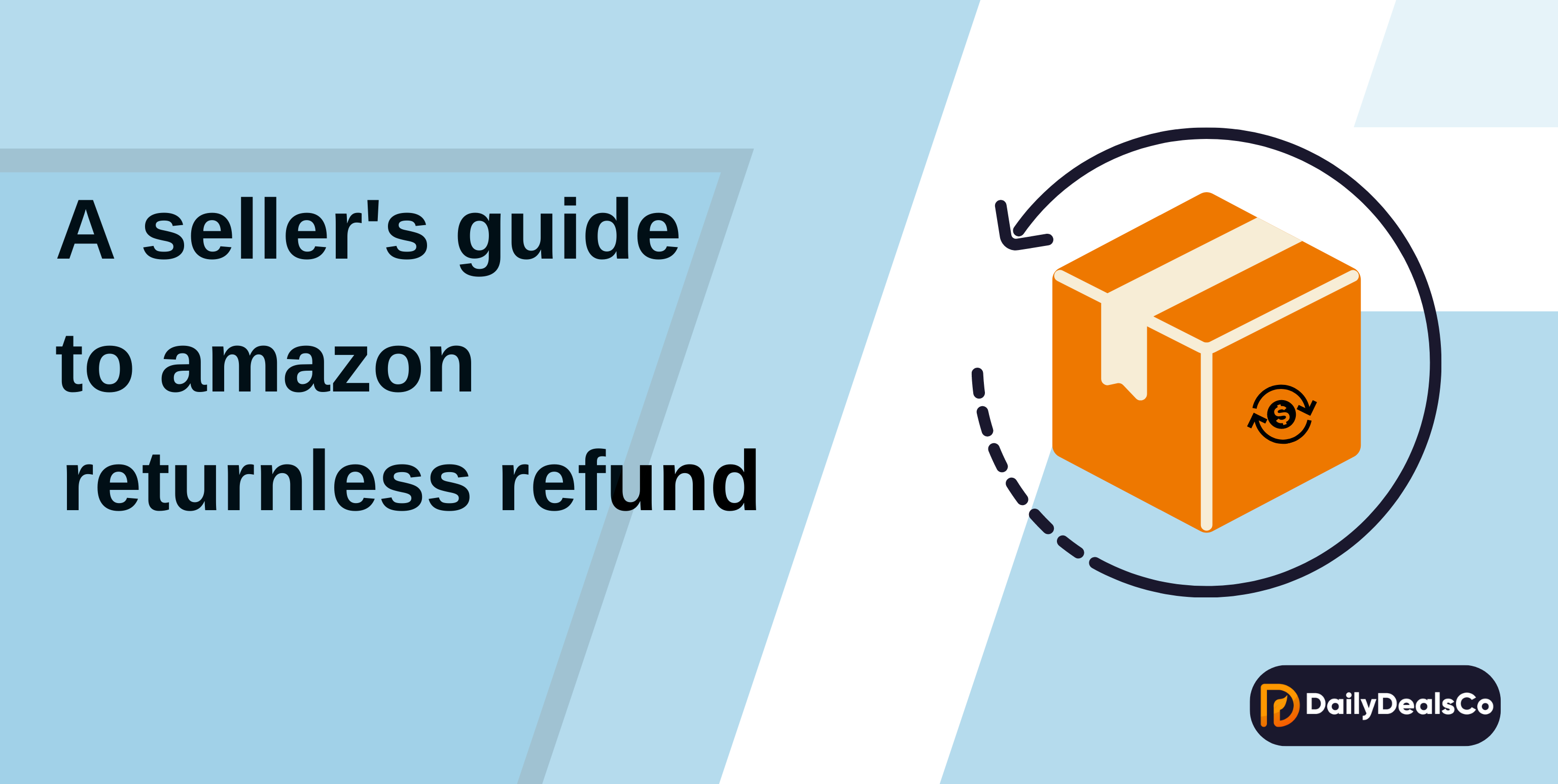 What is Amazon Returnless Refund?

Why Does Amazon Offer Returnless Refunds?

Marketplace Supporting Returnless Refund

Product Exempt from Returnless Refund

Return for a Refund Vs. Returnless Refund

How Long Does Amazon Take to Process Returnless Refunds?

Eligibility Criteria for Amazon Returnless Refunds

How Many Returnless Refunds can a Buyer Get?

How to Opt-in for Amazon Returnless Refund?

Pros and Cons of Returnless Refund on Amazon

How to Decide Whether Amazon Returnless Refund is the Right Option?

Conclusion
What is an Amazon Returnless Refund?
A returnless refund on Amazon means the buyer can get a full refund without returning the product. It simply means the buyer gets their money back and keeps the product. It's a convenient and efficient way to resolve product issues online.
Returnless refunds on Amazon are an optional feature for third-party sellers.
A returnless refund is beneficial when the return shipping costs exceed the item's price. In contrast, a returnless refund can become a nightmare for sellers if buyers exploit it.
Why Does Amazon Offer Returnless Refunds?
Convenience is the number one reason Amazon has the edge over its competitors. It makes Amazon become a customer-centric company. For example, a flexible return policy helps Amazon and its third-party sellers gain more customers.
Besides, processing returns on Amazon is costly. The seller is liable to pay for the return postage. Moreover, the seller must see whether they can resell the returned item.
It requires time, labour, and money. Rather than this, offering a returnless refund helps save up these resources. Sellers can set up returnless refunds for either a complete category, specific products, or no products.
Marketplace Supporting Returnless Refund
All Amazon marketplaces support returnless refunds, whether you sell in the US, UK, Australia, or Germany. Of course, you can always opt for a returnless refund.
Products Exempt From Returnless Refund
Specific categories are exempt from returnless refunds on Amazon. These categories are handmade, digital products, sexual wellness, dental & medical supplies, hazardous & dangerous goods, etc.
Sellers must handle return requests for these manually through the buyer-seller messaging system.
Return for a Refund Vs. Returnless Refund
Return for a refund means the customer is entitled to return the product to receive a refund. Primarily, customers can download a pre-paid return label from Amazon, which they can paste on the box and drop off at the courier office. 
Once the return shipment is delivered back to the seller, the refund is issued. It is then up to the seller to deduct shipping costs from the refund amount. Sometimes, Amazon offers its customers a 'Refund at first scan.' The customer is refunded in full when the courier company scans the return label.
In contrast, a returnless refund means the customer does not need to return the product to receive a refund. Instead, the customer keeps the product and also gets a full refund. A returnless refund on Amazon is preferable when the shipping costs exceed the item's price.
How Long Does Amazon Take to Process Returnless Refunds?
Upon request, Amazon issues a returnless refund within one to three business days. The time it takes to get the payment back depends on the customer's payment method.  If the payment method were PayPal balance, the refund would reflect instantly.
Returnless refunds on Amazon for orders paid via Amazon gift card get refunded within one business day. A credit card refund usually takes up to seven business days to reflect in the statement. 
Eligibility Criteria for Amazon Returnless Refund
The eligibility criteria for an Amazon returnless refund is that the product in question must:
Be sold by Amazon.com or a seller on Amazon

Be under the 30 days return policy of Amazon

Have a returnless refund option available
How Many Returnless Refunds can a Buyer Get?
There is no specific limit on Amazon. But Amazon does monitor return requests from customers to ensure the prevention of its policy violation. However, The buying account gets suspended when the return rate exceeds 10% of the complete orders. It varies from case to case, but Amazon strictly regulates its return policy. The E-commerce giant has strict algorithms that ban buyers who try to exploit its lenient return policy.
How to Opt-in for Amazon Returnless Refund?
In your Amazon seller central, click the settings button on the top right corner.

From the dropdown menu, click "Return settings."

On the return settings page, navigate to the "Resolutions" tab and click "Create a Returnless Resolution Rule."

Define the returnless refund criteria by setting a price range, category, and valid reasons for returnless refund as you like.

Click "Save" to publish.
Pros and Cons of Returnless Refund on Amazon
Pros of the Amazon returnless refund
Processing returns incur a cost. The seller provides a pre-paid label to the customer. In the ordinary course of business, complaints like a damaged product or incorrect delivery are common. The seller is bound on Amazon to offer a free return if the product qualifies.  
Sometimes, the return shipping costs exceed the item's actual price. So it is better to offer a returnless refund instead of paying for return shipping.
Additionally, some products cannot be resold—for example, a mask or a pair of socks. As a result, you are always unaware if the customer wore them and returned them later or not. For such products, the ideal option is to give a returnless refund on Amazon.
Also, if the returned product is damaged, it cannot be resold. Therefore, paying for the shipping to get a damaged product replaced is useless. This way, the damaged unit, and the return shipping cost contribute to a more significant loss. Returnless refunds can avoid such situations.
As discussed earlier, you can set your criteria for returnless refunds on products. It can be for a specific price range, an entire category, a particular SKU, or specific valid reasons. Sellers have the flexibility to mold the returnless refund resolution as they want.
By customizing the rules and criteria for a returnless refund, sellers can ensure smooth business operations.
Convenience for customers
An Amazon returnless refund is an excellent way to boost customer relationships and get more sales. In addition, such eased policies increase customer satisfaction. Customers would be happy to shop more often from sellers offering an Amazon returnless refund. It provides pure customer convenience and also saves the customer's time.
As long as customers know they won't have to return a product in case of any problem, they will shop more confidently.
Processing returns requires a lot of time and labor as well. Offering refunds saves you both time and labor costs. Sellers can save this time and utilize it for more productive activities. The Amazon refund system is a win-win for both the seller and the buyer.
Customers also hate dealing with the hassles of returns, just like sellers. After all, the customer must initiate a return, get the return labels, print the labels, paste them on the box and drop them off at a nearby location. Unfortunately, this is more complex and challenging than it seems.
This hassle makes customers dissatisfied and increases the probability of them leaving you negative feedback. Sellers must realize that all these are friction points that ruin the seller and buyer relationship. Therefore, the seller's motive must be to reduce these friction points.
Returnless refunds on Amazon eliminate these friction points. In addition, when you offer your customers a returnless refund, they are more likely to revisit your store. Some might even recommend your store to their friends and family.
Remember, word of mouth, either positive or negative, has a powerful impact. Positive word of mouth can significantly boost your business in the long run.
Processing returns require printing the labels, using more boxes, and of course, using more packaging tape. When summed up on a large scale, these little things create unnecessary waste and contribute to destroying our planet—these little factors input to carbon and landfill emissions.
Besides being a business owner and a responsible citizen, it is your responsibility to play your role in saving our planet earth. Adoption of sustainable business practices helps a lot. Moreover, many consumers prefer buying from eco-friendly stores and brands.
Cons of the Amazon Returnless Refund
The main problem for sellers offering returnless refunds on Amazon is the risk of scammers. For example, a buyer might receive their product in perfect and working condition but still claim a returnless refund. This way, the buyer gets the product for free.
The exploitation of the refund policy is vulnerable for businesses on Amazon. Small businesses can get damaged and face heavy losses if they encounter such scenarios.
Though Amazon has certain return rate thresholds, many buyers can still abuse this system.
Lose profits by exploitation
As an Amazon seller, your main objective is to increase sales and make a decent profit. But Buyers exploiting the returnless refund policy hinder you from achieving your goal. In addition, excessive returnless refunds can result in massive losses.
As soon as a customer initiates a returnless refund, Amazon automatically refunds the customer and deducts the refund from your available balance. Since the buyer gets a full refund and keeps the item, sellers lose profits by exploiting this policy by such scammers.
How to Decide Whether Amazon Returnless Refund is the Right Option?
Even though returnless refunds boost customer loyalty and save time, they may not always be the best option. The sale of perishables, consumables, seasonal items, wearables, or fragile products should not be subject to returnless refunds.
Evaluating your products is the best way to decide whether Amazon returnless refunds are right for your business. Assess whether you can resell them if they get damaged during shipping. Also, analyze whether it is even worth getting the item returned instead of just refunding it.
The seller must also see the impact of this policy on their inventory. Moreover, returnless refunds on Amazon are encouraged for items with a higher price or profit. Returnless refunds can be opt-in for products with a thinner margin or low cost.
Conclusion
Now you know what an Amazon returnless refund is and how it works. Though the pros of returnless refunds on Amazon might outweigh the cons, it may only be suitable for some. Even though the Amazon returnless refund policy might seem like a drawback for third-party sellers, many find it convenient.
As a result, Amazon customers shop for items because they want them, not because they want to return them afterward. Therefore, from a seller's point of view, a return can be an opportunity to build a healthy customer relationship. In addition, a seller can make loyal customers in the long run by providing a returnless refund.
Let us know about your returnless refund experience on Amazon.
Learn more from our blogs
Top Amazon Seller Tools [2022]
Amazon FBM (Fulfilled by Merchant) A Guide for 2022
Amazon Retail Arbitrage: Reselling in 2022
How to Start Dropshipping for Free?