You might've heard about people making money through retail arbitrage on Amazon. Many people start Amazon retail arbitrage as a side hustle but eventually shift to doing it full-time. Because it is cheap and easy, anyone can do it. If you want to know how to do Amazon retail arbitrage, you're at the right place!
The general concept of retail arbitrage is very simple. Retail arbitrage is buying a product at a low/discounted price and selling it at a higher price. Amazon sellers who choose to fulfill orders themselves use this method to get a good profit. You might've thought why would anyone purchase a product from you when they can get it at a discount from the retailer you did? There is more to this simple concept that is the core of success. This article will discuss all aspects of Amazon retail arbitrage along with a few tips to help you.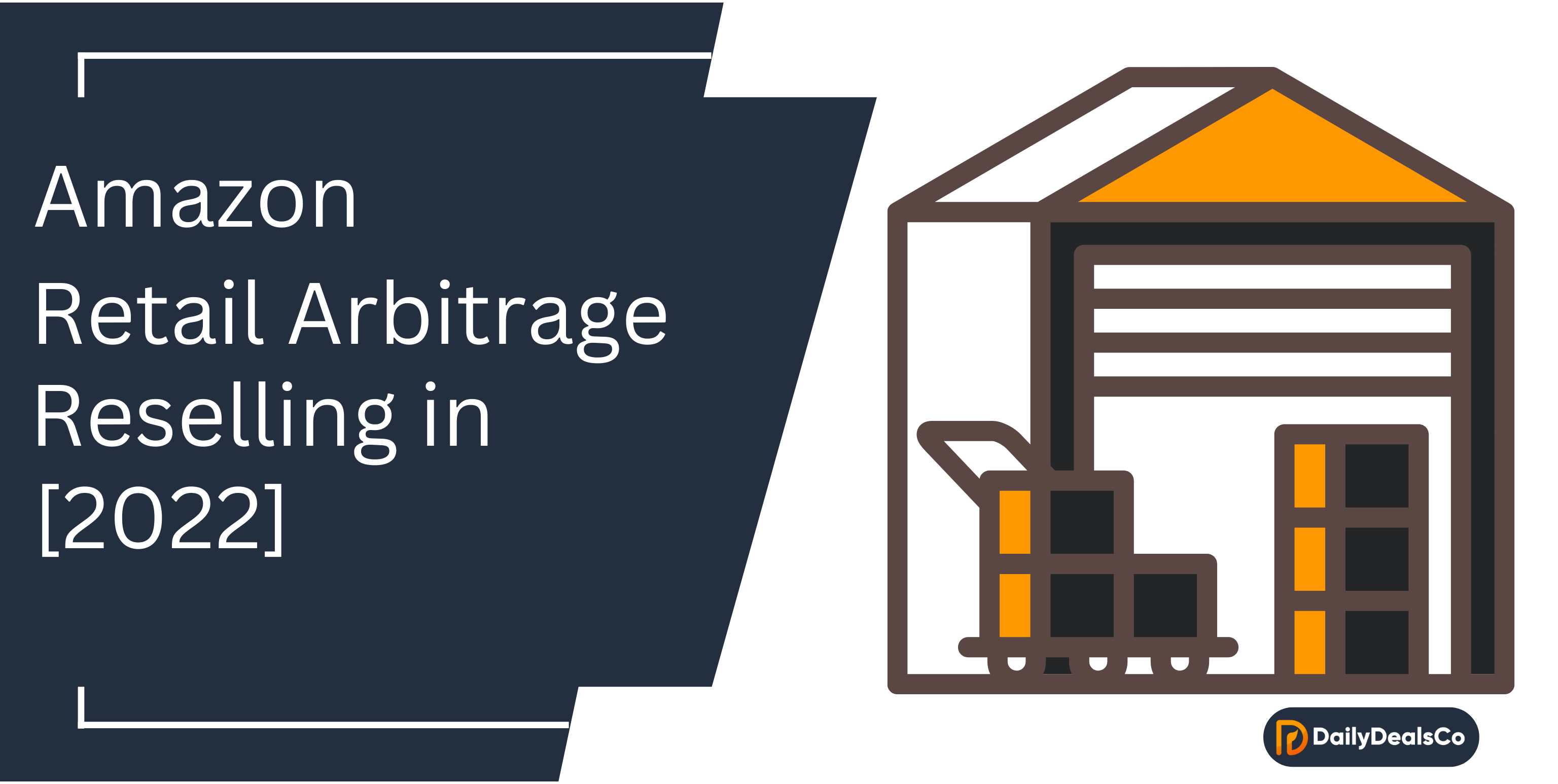 What is Amazon Retail Arbitrage?
Is Amazon Retail Arbitrage Legal?
Retail Arbitrage vs Online Arbitrage
Retail Arbitrage Amazon vs Other Business Models

Retail Arbitrage Amazon vs Amazon Wholesale
Retail Arbitrage Amazon vs Dropshipping on Amazon
Retail Arbitrage Amazon vs Private Label

Pros and Cons of Amazon Retail Arbitrage

Pros of Amazon Retail Arbitrage
Cons of Amazon Retail Arbitrage

How to Get Started with Amazon Arbitrage Business?
Tips to Find Products for Amazon Retail Arbitrage
Conclusion
What is Amazon Retail Arbitrage?
Amazon retail arbitrage involves buying products from a physical store for less and reselling them for a profit on Amazon. In this model, sellers must also invest time and energy in product sourcing and logistics. Profits vary depending on sourcing. If sourced from a retailer at a lower price, the profits might be low. The profits might be significant if sourced from a clearance sale or liquidation.
Is Amazon Retail Arbitrage legal?
Retail arbitrage is legal in the US and the UK. Legally, a retailer cannot stop someone from reselling their products as long as the products have been acquired legally. Another requirement is that the items must be unused and sold in a new condition. However, sourcing counterfeit products and selling them might cause trouble for you. In 2013, the US Supreme court declared that "Retail arbitrage does not constitute trademark or copyright infringement as long as the merchandise was acquired legally". Read more about the retail arbitrage law here.
Retail Arbitrage vs Online Arbitrage
Retail Arbitrage: It includes purchasing products at discount by going to retail stores physically and reselling them on Amazon. You may purchase from brick-and-mortar stores like Walmart, Target, Costco, etc.
Apart from this, you can search for clearance stock sales or liquidation programs to get a good deal, resell using the Amazon FBA model, and make a good profit.
Online Arbitrage:  It is similar to retail arbitrage but instead of purchasing from retail stores physically, you make a purchase online. Retailers like Walmart, Target, Costco, etc. also sell on their websites.
You can purchase products at discount online, have them delivered to you and then resell them on Amazon.
But keep in mind that you must ship products yourself and consider such expenses as platform fees, shipping costs, and other additional costs.
Retail Arbitrage Amazon vs Other Business Models
Retail Arbitrage Amazon vs Amazon Wholesale
Amazon sellers who do retail arbitrage source their products from retailers as individual items. They do not buy in bulk. Retail arbitrage sellers store these products and fulfill orders themselves.
Wholesale Amazon sellers buy branded products in bulk at discounted prices from suppliers, distributors, or brands directly. Wholesalers usually use the FBA program for order fulfillment.
Retail Arbitrage Amazon vs Dropshipping on Amazon
Retail arbitrage Amazon sellers need to hold an inventory and fulfill orders themselves but Amazon dropshippers do not hold any inventory. Instead, they just forward the order details to their dropship supplier when they make a sale on Amazon. The Dropshipper just acts as a middleman and makes a profit from the price difference by never touching or seeing any inventory.
Retail Arbitrage Amazon vs Private Label
Private label sellers source products from a manufacturer and sell them under their brand name on Amazon. Private label sellers usually get their orders fulfilled by Amazon. Contrary to this, retail arbitrage sellers only resell branded products they acquire from other retailers.
Pros and Cons of Amazon Retail Arbitrage
Pros of Amazon Retail Arbitrage
1.    Low cost
The Amazon retail arbitrage business can be easily started with a little investment. It does not require you to purchase any upfront inventory in bulk. You can buy a little quantity of a product and test it first. This also doesn't cost any additional storage fee etc. Private labels and other business models require large investments of over $10,000. Contrary to this, you can start retail arbitrage for as low as $100.
2.    Low risk of investment
Since the investment required for retail arbitrage is little, the risks associated are also low. If you buy a few units of a product for $50, and they do not sell out for some reason, the total risk of loss is only $50. If possible, that too can be exempted by returning the products to the retailer for a refund. On the other hand, other business models require bigger investments; hence, the risk of loss is also significant in case of failure.
3.    Quick earning
Starting an Amazon retail arbitrage business is easy, quick, and cheap. It does not require any long-term commitments with suppliers or distributors. Since you source from retailers mostly, you do not need to meet a minimum order quantity as well. The leniency in this business model is quite amazing.
4.    Time flexibility
You are your boss here. Want to go on a holiday and take some time off? No worries, temporarily close your listings on Amazon and enjoy the freedom you have. This is why many people do Amazon retail arbitrage as a side hustle instead of a full-time business.
5.    Endless products
For Amazon retail arbitrage, you're never limited in terms of products to resell. You have countless products to choose from. There is no need to be niche specific. If you find a product at a retailer at a good price, you can resell it for a profit on Amazon.
Cons of Amazon Retail Arbitrage
1.    Brand restrictions
Amazon provides private labels and brands with a protection program called Brand Registry. This enables brands to get more control over their products. If you list a brand-restricted product to sell on Amazon without approval from the brand, your account might be flagged or taken down. This makes Amazon retail arbitrage a risky business model. Make sure you list products that do not fall under the Brand registry program.
2.    Time-consuming
Going to retail stores to find good deals at discounts and purchasing products to resell can be quite time-consuming. You might not find everything at the best price in one place only. Therefore, retail arbitrage requires time to find, buy, pack, and ship products to customers.
3.    Lower Profits
Buying from retailers and reselling on Amazon might not yield very significant profits. At some point, it might not even be worth all the hassle. Unless you find a jackpot product that you acquire at a relatively low price and can resell at a higher price. Such products are very rare to find. In the normal course of retail arbitrage business, the returns on investment are usually low.
4.    Non-scalable
Amazon retail arbitrage is not scalable at all. You do not get repeat business in this model. You put in your time and efforts for this and are left with no time to focus on growing your business and selling random products online for a profit once. But it isn't sure you can find the same deals again and repeat the sales. Retail arbitrage sellers have to shop more to find good deals and discounts. This is massively time-consuming and there is no cushion for scalability.
5.    Risk of complaints
Retail arbitrage leads to more complaints both from brands and customers. Brands can send intellectual property complaints to sellers for selling their products under another listing. Customers can complain against you if they receive counterfeit or subpar products. Furthermore, Amazon can also ask you where you are getting your products from by asking for invoices.
How to Get Started with Amazon Arbitrage Business
To start an Amazon retail arbitrage business, you need to find profitable products to sell and an Amazon seller account. After that, you must decide whether you want to fulfill orders or opt for the FBA program. Some sellers do both simultaneously. Apart from this, you'd need an app to scan products in retail stores to see if you are allowed to sell them on Amazon or not. Let's walk through the steps to have a better understanding.
1.   Open a seller account
The first step toward starting an Amazon retail arbitrage business is to sign up for an Amazon seller account. This gives you access to the platform where you will sell your products. There are 2 types of seller accounts.
Individual seller accounts at no monthly subscription fee but a $0.99 fee per item sold.
Professional seller account at a fixed $39.99 monthly fee but no per unit sold fee.
Initially, you can choose an individual account but in the long run, you would want to upgrade to a professional seller account. Professional seller accounts also allow access to a vast range of features and enable you to sell in many other categories.

2.   Download the Amazon seller app
Once you've signed up for a seller account, you can download the "Amazon seller" app for free and log in. This app helps to figure out what products to buy for reselling on Amazon.
There is a camera icon on the top right corner of the app. Tapping this opens the mobile camera to scan products right away and pulls up their listings on Amazon. It shows the product image, selling price, selling fees, and other important information.
3.   Visit retailers
Now that you are all set, visit some nearby retailers to find some discounted deals and products to resell.
Here are some retailers in the US. (May vary from region to region)
Walmart
Target
Costco
Kmart
Home Depot
Lowes
Walgreens
CVS
Rite Aid
Bed Bath & Beyond
Office Depot
Staples
Menards
Meijer
Best Buy
Kohl's
4.   Scan products
After entering a retail store, open your Amazon seller app and start scanning items across shelves. Look for clearance aisles to find some good deals. Over time, you will become a retail arbitrage seller and understand the product placement of every retailer. This will save you time in finding good products to select.
Firstly, open the app and scan the barcode of any product.
A new page will open in the app showing the same product's listing on Amazon. Tap on the listing to view the product details.
The product details page shows the product sales rank in its category, eligibility to sell, listing price, image, and product ratings. Based on assessing all these things, you can decide if you can sell that product at a profit or not.
If you are eligible to sell, the sales rank is good, and there is a profit, select it. Otherwise, you can drop the product and scan the next one.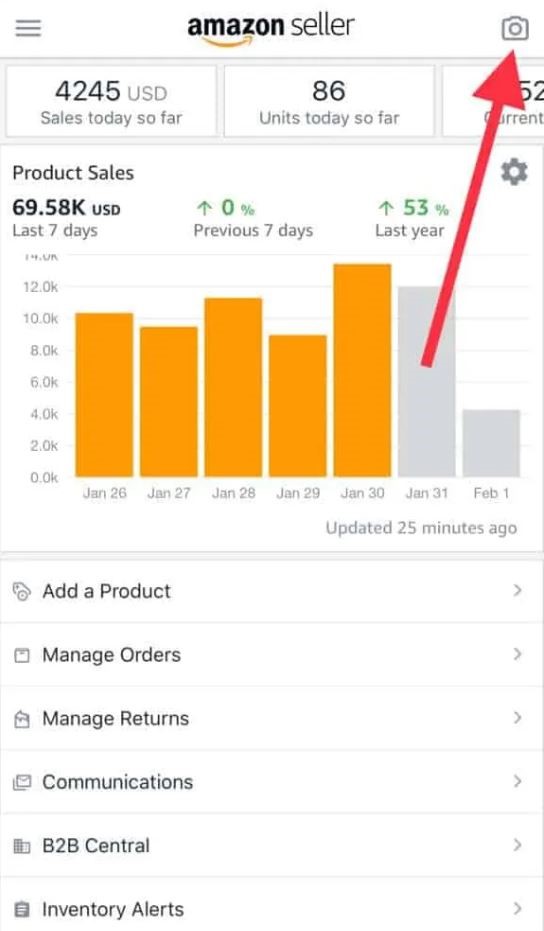 5.   Purchase products
After you find profitable products and finalize your decision. The next step is to purchase a suitable quantity of each product under your allocated budget. Bring all products home and store them safely to ensure they are not damaged from any side.
Store these products in a safe place and ensure you have the proper packaging supplies available.
6.   List to sell
Once you've purchased items to sell on Amazon, the next step is to list them for sale on Amazon. You can choose to fulfill orders yourself or have Amazon handle the pick, pack, ship, and return for you.
If you opt for FBA, it may eat up a bit more than usual in your profits but saves you time. On the other hand, fulfilling orders yourself would consume time but yield more profit.
7.   Fulfill orders
For FBA, you need to prepare an Amazon FBA shipment, pack, label, and ship the products to an Amazon fulfillment center.
If you decide to stick with the merchant-fulfilled method, you have more responsibility. You need to keep checking your seller account for any new orders. Once you receive an order, you are liable to pack it firmly, generate a prepaid label, paste the label, and ship it to the customer.
You also need to handle all returns and provide customer support.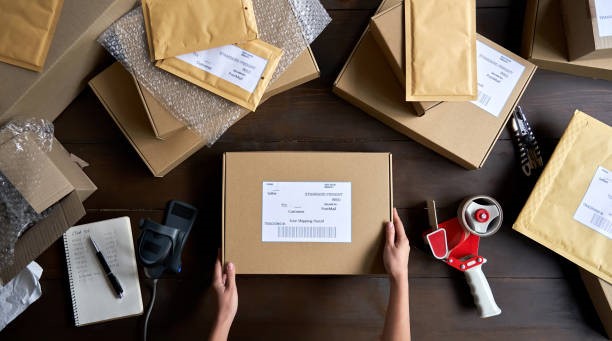 Need help with fulfillment services? Contact Buzz Byte
Tips to Find Products for Amazon Retail Arbitrage
1.   Learn product placement
Try to understand every retailer's psychology when it comes to product placement. Product placement is a marketing technique used by retailers worldwide to target an audience for a specific product category or brand. For example, many retail stores place chewing gum near the cashier counters. That's because many customers might tend to buy them at the cashier counter even though they might not need them. This is where mind-reading psychology kicks in. Retailers use these tactics to indulge buyers to purchase more unwantedly.
Similarly, there may be special aisles with clearance stock or discounted products in a specific place. Finding these aisles might take time initially but as you get to understand the product placement of every retailer, you will save time shopping.
2.   Check trends
Always remain on the lookout for trendy products. Social media plays a vital role in a product's success. For example, you might have seen a massive trend to buy fidget spinners and other stress-reducing products in the recent past. This product was something nobody intended to buy but following the crazy trend storming social media platforms, millions of people bought them.
Many social media platforms like Instagram, TikTok, Facebook, Reddit, Pinterest, etc. show viral trending products. You can also see Amazon's best-seller page to find such products. As a retail arbitrage seller, always stay up-to-date with trends to benefit the most.
3.   Get the right tools
To find maximum information about your potential product, you need the right tools. The best tool so far for Amazon retail arbitrage is the Amazon seller app. You can scan the barcode of products and view details instantly. Apart from this, you can use other mobile apps as well such as Scoutify or Profit Bandit.
4.   Compare prices
You don't want to miss out on any discount offers by not checking all available options. It might be possible that a product you consider may be selling for less at another retailer. Always check the prices offered by other retailers for a specific product before making your purchase decision. Always search for sale, clearance, or multi-buy offers on a product to maximize your profits.
5.   Selling eligibility
It is necessary to check whether you're allowed to sell a specific product on Amazon or not. Some products are straight-up banned for resale by the manufacturer. These are the items prohibited to resell on Amazon. Apart from this, there are some Amazon-restricted categories also called gated categories. These products require prior approval from Amazon to be sold. Learn more about restricted categories here.

6.   Check for customer reviews
Always consider checking customer ratings and reviews before finalizing your decision to resell via retail arbitrage. It might be possible that the overall reviews of a product be excellent but once you check the reviews in depth, they appear from a few years back. Customer reviews must always be recent and good. Never consider buying any product that has no or bad reviews on Amazon.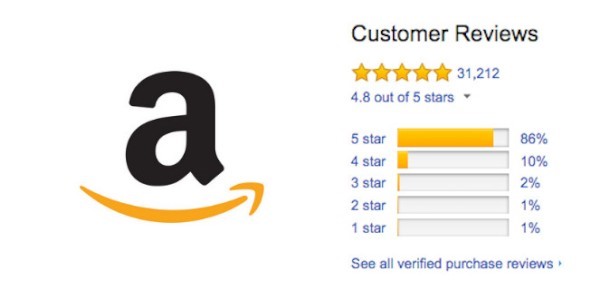 7.   Check available stock levels
Always check your competitor's real-time stocks to compete. Even if the competition is tough, you can still squeeze in and make sales. Download a free Google chrome extension Online Seller Addon to check stock count for free. This extension is free to use for everyone. There is no need to sign up for anything. Just download and start using it right away.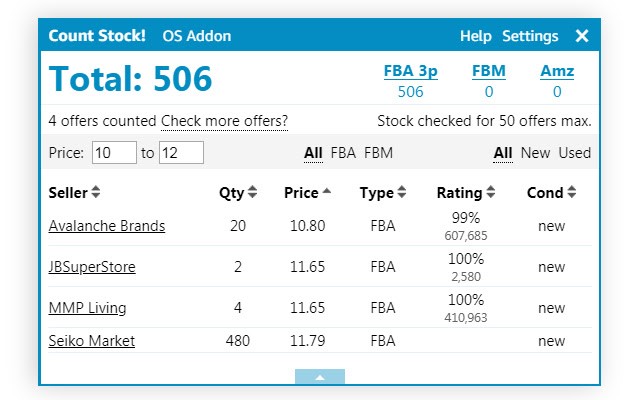 8.   Set your bottom line
Always set your minimum criteria for every single thing. You can set minimum criteria for your profit to be at least $3. If any product is below that, leave it.
This can also be done for the sales rank. If the sales rank is more than 80K, drop the product and search for another. Similarly, this may also be applied to the number of competitors, reviews, ratings, price, ROI, weight, and dimensions.
These minimum criteria can vary from product to product or category to category. There is no hard and fast rule for these criteria. It's all up to you. You can check your amazon profit margins via the Amazon FBA calculator.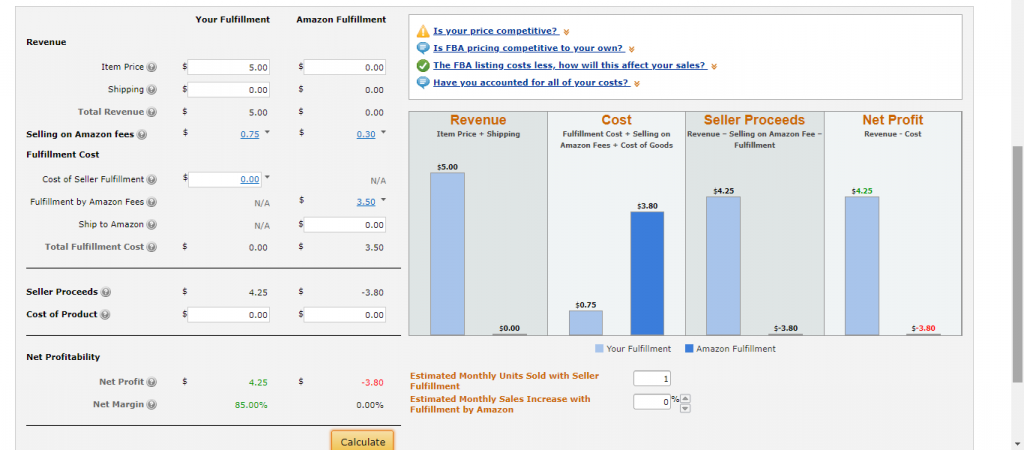 9.   Do calculations
Remember to do the mathematics and check if a product can be sold at profit before making the purchase decision. Evaluate your profit considering the product price, packaging cost, shipping cost, Amazon referral fee, and other operational costs.
If you opt for the FBA program, take into account the FBA fee, storage fee, inbound cost, labeling cost, etc. If you miscalculate, you might bear a loss that you would never want so this step is crucial.
10.   Buy a retailer membership
Some retailers offer an extended return window for customers who have bought their memberships. Therefore, consider this as well as it might come in handy. These memberships may also offer additional discounts according to your purchase volume.
The plus point is, if you're unaware of the ability of a product to perform, you can return it.
Using these tips, you can get started easily and get a good grip on Amazon retail arbitrage.
Conclusion:
Conclusively, Amazon retail arbitrage is a decent way to make money. Though it requires time, still it's worth it. Especially if you start small. All other business models on Amazon require a bigger budget and ultimately the risk is also greater.
If you have the right tools in place, enough time, a nearby retail store, and some storage space, you can start your Amazon retail arbitrage business. Compared to other businesses, this model is the safest and cheapest in every aspect.
You would be unable to build a brand this way. It's worth it if the sole motive is to make money. Nevertheless, you always have the option to switch to online arbitrage if the retail model isn't suitable.
If you've tried Amazon retail arbitrage, let us know your experience in the comments section!