Newbies use Amazon seller tools for assistance in product hunting for selling on Amazon and experienced sellers also use them.
Surprisingly, almost every Amazon seller uses online tools, software, and browser extensions for assistance in work.
We have shortlisted the best Amazon seller tools just for you. Let's walk through all these seller tools in detail.
Amazon Product Hunting Tools

Keepa
Helium 10
Jungle Scout
Amz Scout
Unicorn Smasher
Seller Amp
FBA Toolkit

Amazon Inventory Management Tools

Restock Pro
Inventory Lab
So Stocked

Amazon Analytics Tools

Seller Board
Seller Legend
Tools4Seller

Amazon Repricing Tools

Informed.Co
Repricer.com
Sellery

Amazon Products Overview Tools

Scan Unlimited
DS Amazon Quick view
Online Seller Addon
IP Alert

Conclusion
Amazon Product Hunting Tools
Keepa
On Amazon seller tools Keepa ranks one of the best tools used globally. It's easy to use, one just simply needs to add a browser extension and sign up for it.
To download Keepa extension click here.
It displays a widget on each Amazon product listing page and gives you information regarding the product's historical BSR (Best Seller's Rank), the average price of the listing, Buy Box history, review count, rating count, and other helpful information.
With this tool, you can view the current Best Seller Rank and a complete understanding of a particular product's long-term performance on Amazon, ranging from when it was listed to date.
The sales rank history graph proves to be very helpful for hunting products for private label, wholesale, retail arbitrage, and dropshipping.
Want to know more about Dropshipping?
Another amazing feature of this tool is that it gives a complete overview of the Buy Box rotation history and the total percentage of time a seller had the Buy Box over some time.
The tool is extremely useful for monitoring both short and long-term pricing trends on Amazon. You can use Keepa to check out how an item has historically been priced on Amazon since it was listed. It also alerts you if there is any price change.
This Amazon seller tool enables you to hunt products according to better criteria and is also helpful for competitor analysis. This tool also integrates with a few other tools to provide other insights on Amazon search pages.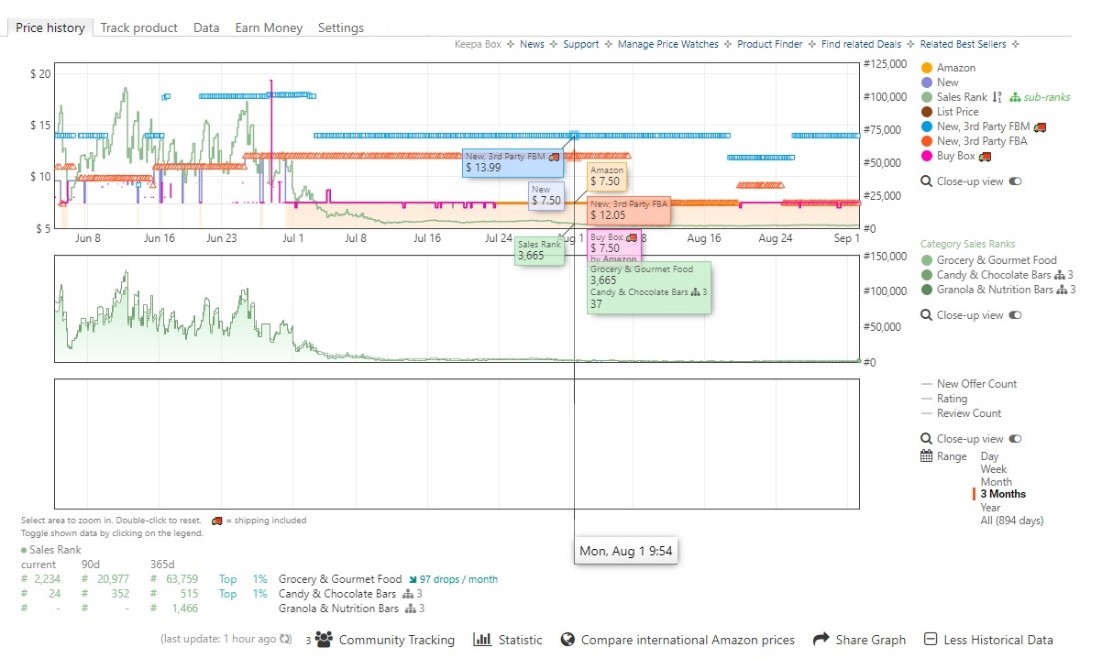 Pricing:
Keepa has a very limited features free plan and has 2 pricing plans for a full feature version.
Keepa Monthly plan is: €15/month
Keepa Annual plan is: €189/year
Need help with Hunting Products on Amazon?
Helium 10
Helium 10 is a comprehensive suite of tools for Amazon sellers and has almost everything you need to run a business on Amazon.
This tool is an Amazon gold miner software, used by many sellers. Subscription to Helium 10 gives you access to its complete features such as:
Want to get a list of hunted products to sell on amazon?
65+ Best Dropshipping Products to Sell on Amazon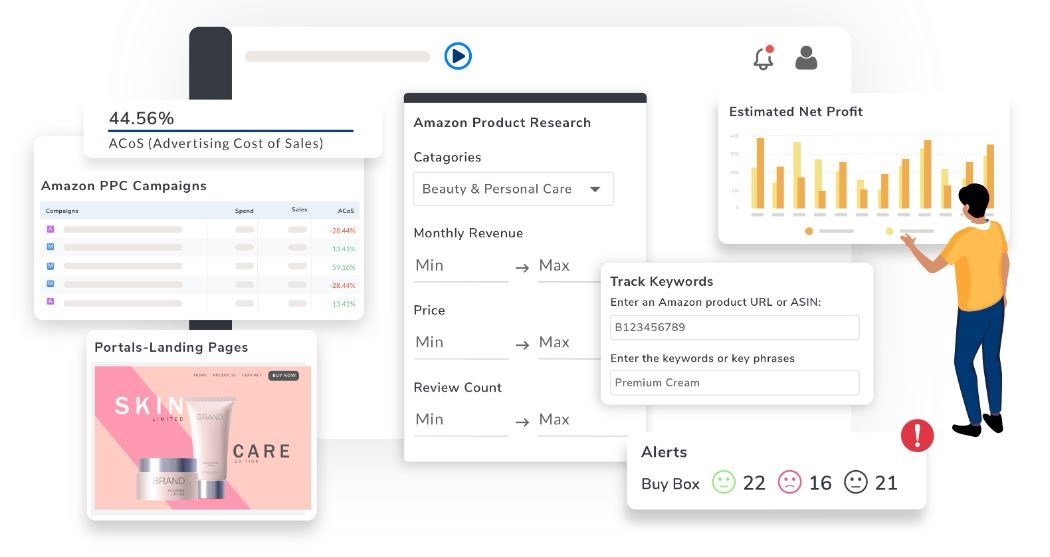 Pricing:
Helium 10 has a free plan which has limited features.
Starter plan: $39/month or $29/month billed annually.
Platinum Plan: $99/month or $84/month billed annually.
Diamond Plan: $249/month or $209/month billed annually.
Elite plan: $399/month.
 Custom plan: Contact Helium 10 for a quote.
Jungle Scout
Jungle Scout offers an all-in-one solution for sellers on Amazon and is one of the best Amazon seller tools available. New, existing and potential sellers can all benefit from its 3 options.
It provides solutions according to your needs whether it is to launch a new product, get reviews, or streamline your business.
Jungle scout allows you to see what is selling on Amazon, track a product's sales history, evaluate its potential as well as instantly view key insights.
Jungle scout has many features to use such as:
Pricing:
Jungle Scout has a free 7-day trial with a money-back guarantee.
Basic Plan: $49/month or $29/month billed annually
Suite Plan: $69/month or $49/month billed annually
Professional Plan: $129/month or $84/month billed annually
Enterprise Plan: Custom pricing quote.
Amazon Wholesale: A Selling Guide
AMZ Scout
AMZScout helps merchants identify the trends that matter. Once you've found a niche to sell, you can use AMZScout to see if it is viable or not and then proceed to finalize your selling decision.
It also tells you about other specific niches being inspected by other sellers.
AMZScout subscription gives you access to Google trend data analytics, fees regarding FBA, product sales estimations, quality of listed products, and much more.
Some prime features of AMZScout used by Amazon sellers are as follows:
Product Database: AMZScout has a product database of 600 Million products for you to search products from. It allows you to use 16 filters for your research criteria like revenue, rank, listing quality, etc.
Reverse ASIN Lookup: This spy tool reversely searches the competitors' keywords on which they have ranked their products on Amazon. This helps you save on PPC campaign costs by taking ideas from your competitor's strategies. This tool also shows you the top trending keywords and products.
Stock Stats: This feature spy's on other sellers' current stock and also gives an average stock count of the listing. This also gives you a clue about the average sales of a product on Amazon by calculating the difference in stock for two days.
AMZScout offers a PRO Extension and an Amazon seller's bundle with all features.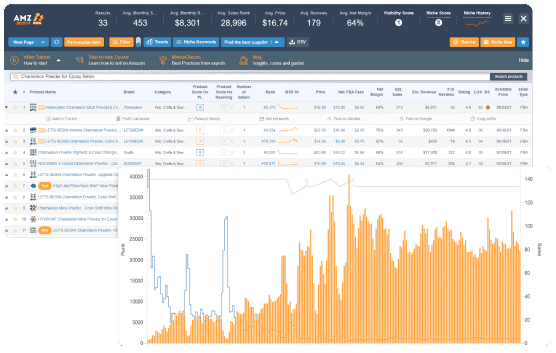 Pricing:
PRO Extension: $16.49/month billed annually or $499/lifetime.
Amazon Seller's Bundle: $29/month billed annually or $1,499/lifetime.
Unicorn Smasher
Unicorn Smasher is the best Amazon seller tool for beginners. It is easy to use and provides its members with product information, downloads, and other support for product research.
The Unicorn Smasher dashboard displays all product data in a very easily readable format. You can learn about how a product is performing on Amazon in sales.
The opportunity scoring metric helps you know what products are likely to sell quickly on Amazon.
Product hunting can get very problematic due to data overload which is usually difficult to manage and organize with excel sheets.
Product hunting can get very problematic due to data overload which is usually difficult to manage and organize with excel sheets.
It also provides live data updates for products including sales rank, ratings, customer reviews, prices, and much more.
Unicorn Smasher is a tool made by AMZ Tracker that integrates with it to get further information about product listings.
It also provides information regarding fulfillment details so you can know whether your competitor is an FBA seller, an FBM seller, or Amazon itself.
This Amazon seller tool facilitates your Amazon product research very simply. The free Unicorn Smasher chrome extension is easy to use and provides on page accurate information.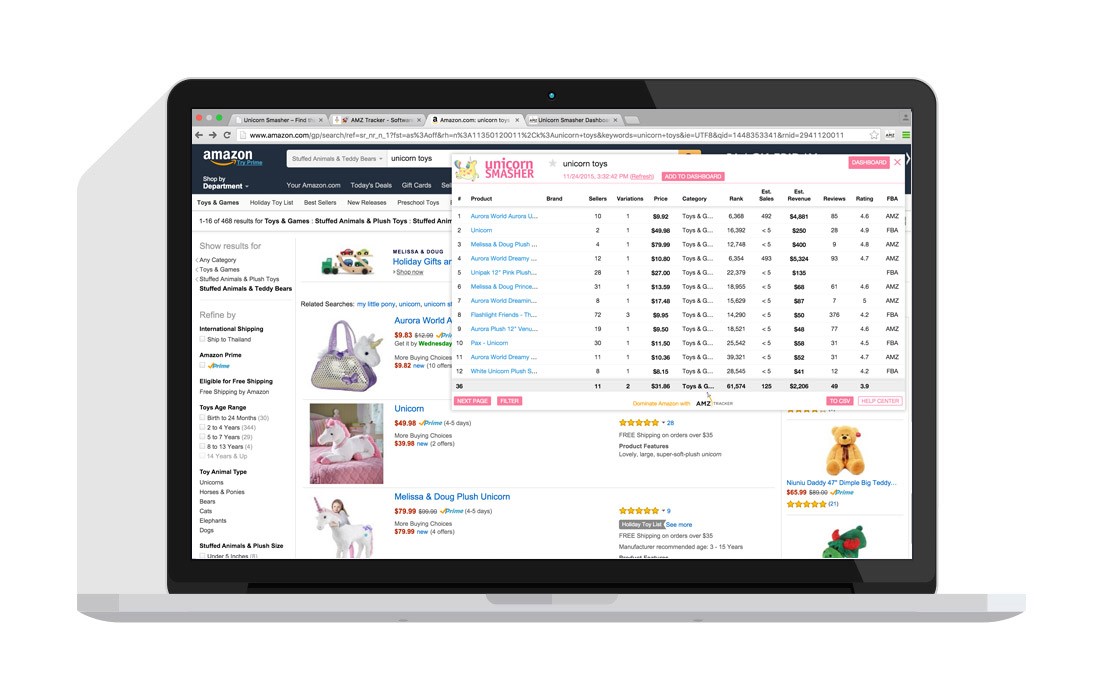 Pricing:
Unicorn Smasher is Free.
Unicorn Smasher has 3 paid plans.
Basic Plan: $49.99
Professional Plan: $99.00
Suite Plan: $159.00
Interested in learning more about FBA and FBM visit the links below.
SellerAmp
SellerAmp is a very uncommon tool but one of the best Amazon seller tools available on the list for product hunting and research. It is useful for retail arbitrage, online arbitrage, FBA wholesale, and private label sellers.
SellerAmp has a flagship tool called SAS meaning Sourcing Analysis Simplified. This assists decision-making by providing key analysis.
Your decision to sell a product usually involves considering many factors, including the product itself, profitability, return on investment (ROI), sales history and market information about competitors.
SellerAmp SAS provides all of this data and alerts you when it changes. SellerAmp is available as a mobile app, chrome extension, and web app.
The mobile app is for both iOS and Android. It is the perfect thing for retail arbitrage. Simply scan a product with the app on your phone and it shows all details regarding the product.
SellerAmp chrome extension launches as a side-by-side window on your Amazon product page and displays all the information regarding the product.
The website's analysis will help you make a decision. The most valuable part of this tool is that it allows you to set your goals for desired profit, return on investment, and Best Seller Ranking.
It also takes into account your additional sourcing costs, tax status, inbound FBA shipping rates, etc.
SellerAmp has a customizable dashboard that displays key metrics at-a-glance: your ability to sell, estimated sales volume, anticipated costs for each product, and its best price.
This tool also has a built-in calculator for your ease. SellerAmp is a compact yet comprehensive tool and has almost everything an Amazon seller needs.
Pricing:
Getting Started Plan: $16.95/month or $14.13/month billed annually
Getting Serious Plan: $22.95/month or $19.13/month billed annually
FBA Toolkit
FBA Toolkit is software for amazon sellers that tells you the estimated daily sales of products lying under a specific sales rank in a category and this feature is free to use for anyone.
The front page of the website has graphs labelled with every respective category and an input box below.
Suppose the product you are looking at has a sales rank of 10,000 in the category Toys & Games, if you enter this in the tool, it shows that the estimated sales per day for the rank 10,000 in the Toys & Games category is 23(30).
Multiply this by 30 and you get the monthly estimated sales which in this case is 690. Now, this is the total sales divided by the top competitors in that listing.
The Price list analysis is the second feature offered by FBA Toolkit and using this feature you can upload a spreadsheet of UPCs, EANs, or ASINs along with an optional cost field and the tool generates a detailed report consisting of information regarding current offers, estimated sales rate, profit, etc. which helps you make a decision in choosing the correct product to sell on Amazon.
The third feature offered by FBA Toolkit is Product Tracking which allows you to track the product price, stock, and sales of all the relevant merchants in a product listing.
Pricing:
Free Plan
Scouter Plan: $5/month (1st month is free)
Starter Plan: $50/month
Business Plan: $250/month
Enterprise Plan: $500/month
Elite Plan: $1000/month
Amazon Inventory Management Tools
Restock Pro
Restock Pro is one of the best Amazon FBA tools for inventory management. This tool allows you to track sales velocity, estimated margins, competitive listings, and much more.
Generally, Restock Pro is used to create purchase orders with suppliers, track shipments, and manage daily inventory tasks easily.
It also has priority flags and tags which help Amazon FBA sellers stay in stock and prevents overstocking.
This tool enables you to document minimum freight and supplier preference type information on its cloud servers so your data remains safe and easy to track whenever you need it.
This simple tool facilitates FBA inventory management from forecasting and reordering to labeling and shipping whether to your warehouse, a prep center, or an Amazon fulfillment center.
It proactively tells you when and what to restock along with other product insights. Restock Pro manages inventory efficiently which helps Amazon sellers maintain and improve their Inventory Performance Index (IPI) score.
Restock Pro gives you a quick overview of how your product inventory is performing by providing all the data you need to make your inventory restock decisions.
This tool analyses 70+ data points to determine whether you need to restock your Amazon FBA inventory or not.
Pricing:
The pricing plans for Restock Pro depend on the number of FBA orders your Amazon store processes monthly.
Starter Plan (1,000 FBA orders): $99.99/month
Pro Plan (2,500 FBA orders): $139.99/month
Premium Plan (7,500 FBA orders): $249.99/month
Ultimate Plan (20,000 FBA orders): $399.99/month
Enterprise Plan: Custom pricing for a different number of FBA orders.
Wondering how to Send Shipment to Amazon FBA Rapidly?
Inventory Lab
Inventory Lab is another amazon seller's software for inventory management. This software saves you valuable time by streamlining the small yet complicated tasks which allow you to focus on other important things.
This Amazon seller tool has a built-in product research tool called Scoutify. It fetches real-time product data and simplifies your product purchase decision.
It is one of the top Amazon seller tools for retail arbitrage because you can pre-set your desired profit margins and sales rank to filter out products that fall outside this criteria.
You simply scan items in the Scoutify app and it evaluates them according to your applied filters which tells if you should buy them for stock replenishment or not.
Inventory Lab helps to list, print labels, and build FBA shipments.
It automatically tracks your costs, and once you confirm an item for listing as FBA it can visualize profits.
You can review which products are selling quickly and performing well in sales so you can replenish them and what products had a poor selling history so you can cut your costs and maximize profits.
This tool provides accurate insights to view the total in-stock value, sales values, and other accounting data.
You can check with this tool to see how many units for an item you have on hand, the previous selling price they were listed at, the cost per unit, and how much more you need to purchase according to your previous sales.
Inventory Lab generates comprehensive data reports that help you know what products and categories are profitable for you so you know where to focus.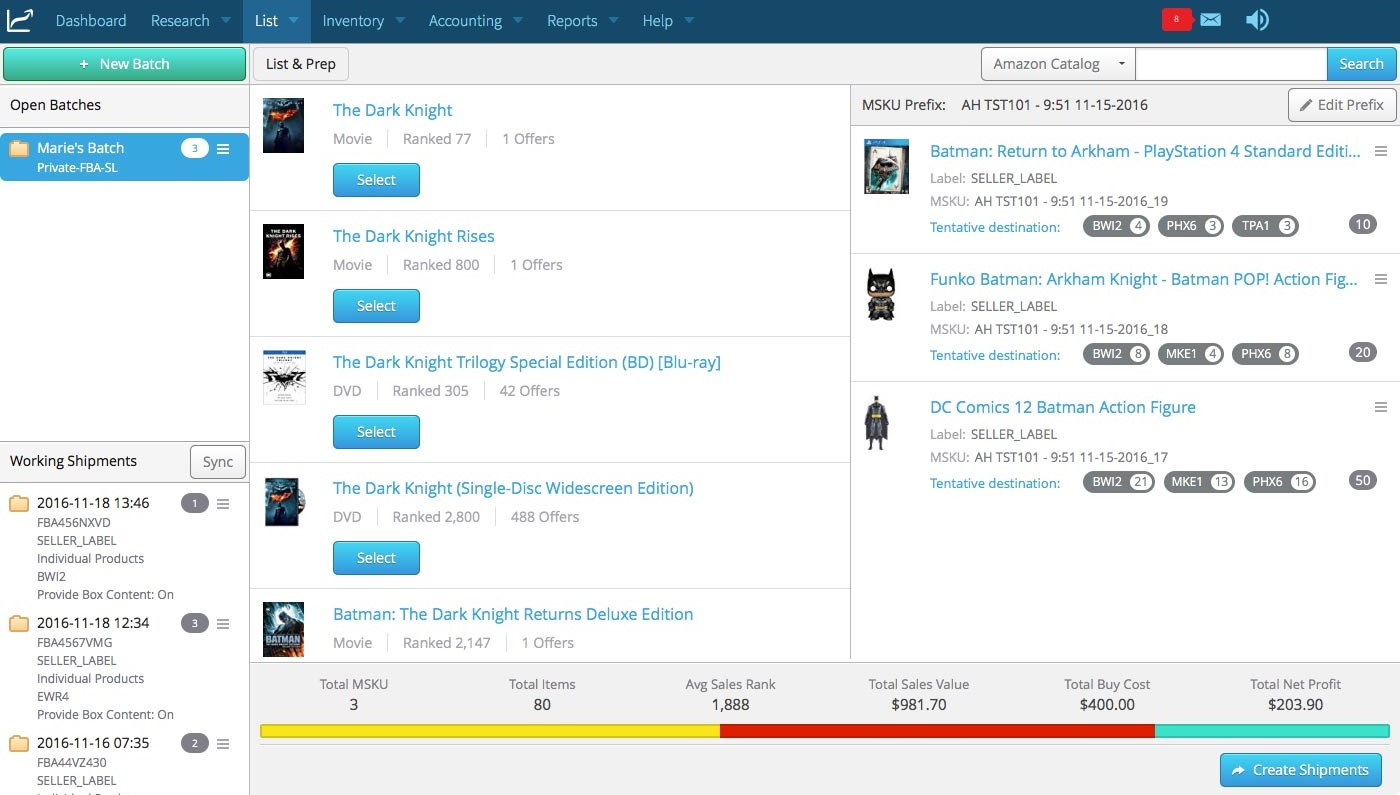 Pricing:
Inventory Lab has a one-month free trial.
Monthly Plan: $69/month
Annual Plan: $690/year
SoStocked
SoStocked is the first fully customizable inventory management and forecasting software for Amazon sellers.
Amazon sellers often struggle with inventory management, such as ordering too much or too little product and keeping track of orders.
Unlike other inventory management software, SoStocked does not use the same algorithm for all products to forecast the required stock.
It is 100% customizable in each aspect according to every product respectively. SoStocked is more like a spreadsheet but is better in a few ways.
Spreadsheets cannot alert you when you need to restock. They have the same one-size fit for all algorithms for your product data, which is unsuitable since you might have multiple products of different categories and varying sales ranks.
This is where SoStocked takes the competitive edge and provides you with fully customizable algorithms for your inventory and also alerts you in case of low stock.
SoStocked automatically takes into account factors like seasonality, prime day, special occasional events, and other sales spikes so you can order accordingly.
It also allows you to track exactly where your order from the supplier is.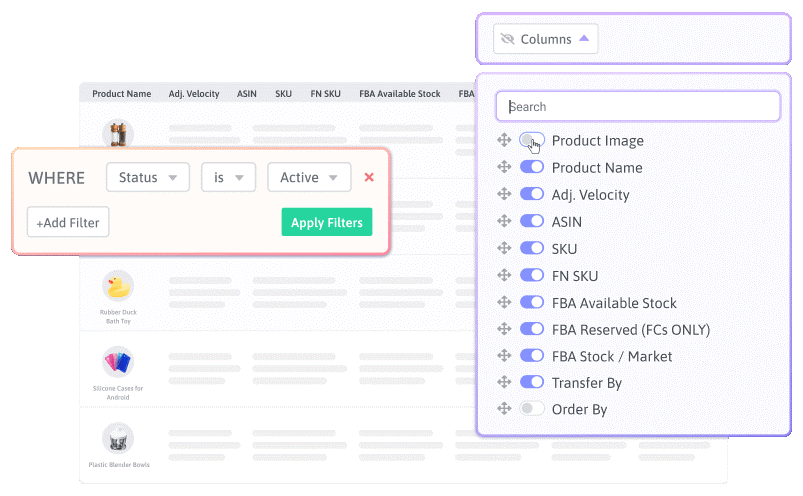 Pricing:
The pricing plans for SoStocked are based on the number of monthly orders on your Amazon store. The first month is free for every plan.
1,000 orders: $79/month
2,000 orders: $89/month
3,000 orders: $99/month
5,000 orders: $125/month and so on.
Amazon Analytics Tools
SellerBoard
Sellerboard provides real-time tracking information on all Amazon sales, follow-up email campaigns, inventory management (including reimbursements for lost or damaged stock), optimizing PPC and listing change alerts.
The comprehensive design of this tool displays detailed information on Amazon fees, including FBA fees and commissions, PPC costs, returns costs; promotions costs.
It gives you a detailed view of your KPIs over time: monthly, quarterly or even yearly.
This Amazon Seller tool provides a simple but detailed profit and loss table, allowing sellers to monitor their sales efforts on all fronts.
You can customize the time frames or apply filters by marketplaces or products and see the products sold in any selected period.
Sellerboard tracks every applicable Amazon fee so you don't have to worry about accounting for them yourself and having the correct numbers at the end of each month.
Sellerboard retrieves all Amazon-related data automatically and also allows tracking of other fixed or variable expenses.
To see a demo of how sellerboard works click here.
This allows you to determine how much you should invest in order to retain current customers or attract new ones.
With the Sellerboard module, you can check current trends and see which products are doing well and need to be kept in stock.
This tool will alert you if anything changes in your Amazon listing, such as the name or description of a product.
Sellerboard helps you generate automatic reviews. It has a feature that is crucial for new and experienced sellers alike: It allows you to generate reviews without having to manually send them out.
With sellerboard, you can set up an automated email campaign that lets your customers know about yourself and your product while encouraging them to leave a review.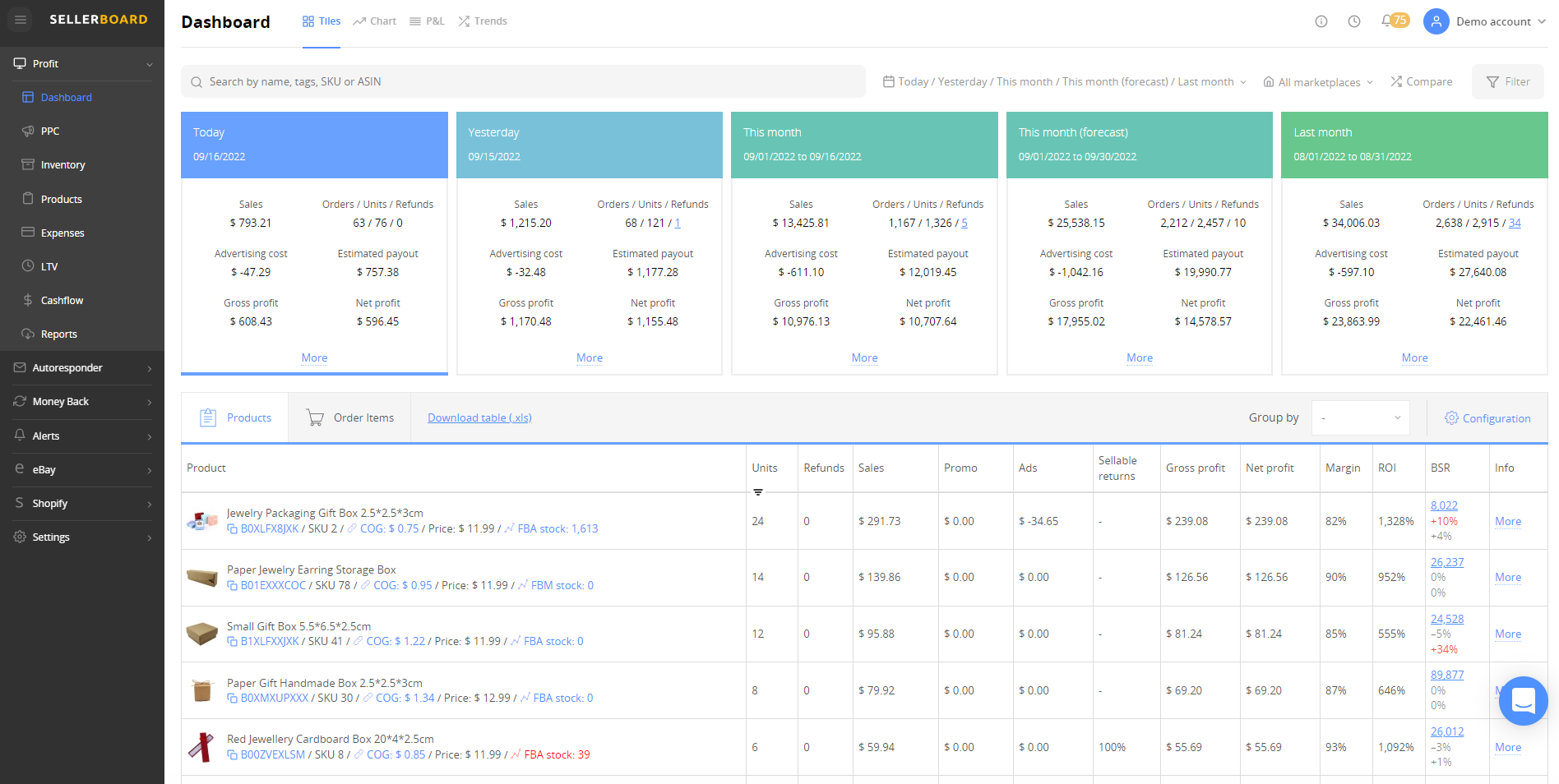 Pricing:
Sellerboard offers a free 30-day trial period. The various plans offered are,
Standard Plan: $19/month or $15/month billed annually.
Professional Plan: $29/month or $23/month billed annually.
Business Plan: $39/month or $31/month billed annually.
Enterprise Plan: $79/month or $63/month billed annually.
SellerLegend
SellerLegend offers a fully customizable dashboard to track your sales, profits, inventory, costs, and other important aspects of your business.
Amazon seller tool like sellerlegend assists in making better business decisions. It saves you time by automating inventory management and reporting tasks. There are 3 dashboard types each providing a different overview.
Marketplace Dashboard allows you to see all your KPIs at a glance in one dashboard. With only one look, you can get to know your most profitable periods instantly.
It also shows your top 10 best-selling products, repeating vs one-time customers, customer segmentation, refunds and returns rate, and gives inventory restocking alerts.
Product Dashboard tracks critical performance metrics on inventory, disposition, cost of goods sold, returns, refund rate, and much more for every single product on your Amazon seller account.
It allows you to visualize sales velocity, revenue, PPC, taxes, promotions, and Amazon seller fees.
Customer Dashboard allows you to view the customer lifetime value details, individual customer orders and refund history details, record customer notes, and much more.
This allows Amazon sellers to understand the customer's purchase behaviour in each marketplace and evaluate their most profitable customers.
SellerLegend shows the revenue performance which can be broken down to view by day, week, month, year settlement period, product or brand, etc.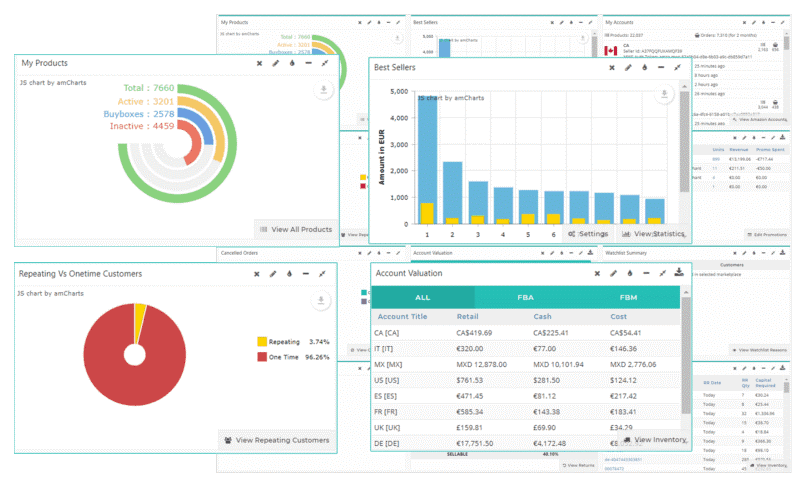 Pricing:
SellerLegend offers a free 21-day trial. The plans offered are,
Starter Plan: $49.99/month
Advanced Plan: $59.99/month
Professional Plan: $69.99/month
Enterprise Plan: $99.99/month
Tool4seller
Tool4Seller is one of the smoothest yet smartest Amazon seller tools available currently loaded with many features.
It proactively alerts you for out-of-stock items to avoid sales loss. It also alerts if any competitor changes prices or any other status.
This tool also alerts about Buy Box hijackers and helps report them to protect your listings. The main objective of Tool4seller is to provide real-time sales analysis which can also be tracked via ASIN performance.
You can view your best-selling products and profitability with the cost breakdown.
You can easily set rules to win the Buy Box and get alerted instantly when you lose the Buy Box to take necessary actions before it is too late.
It helps you optimize your PPC campaigns and see KPIs related to this such as ACOS, CPC, and impressions.
This helps you maximize your profits with Amazon advertising optimization and intelligence. Tool4seller automates your PPC campaigns and saves you time in manual campaigns.
Along with the analysis, this tool also provides smooth inventory management and forecasting. It gives a birds-eye view of your FBA inventory and tells how much stock you would need based on your sales trend.
It also has repricing software integrated which sets your selling price according to the rules and strategies you set.
The dashboard provides easy-to-understand graphs to analyze the total revenue, total costs, and gross profit for each period and accumulative.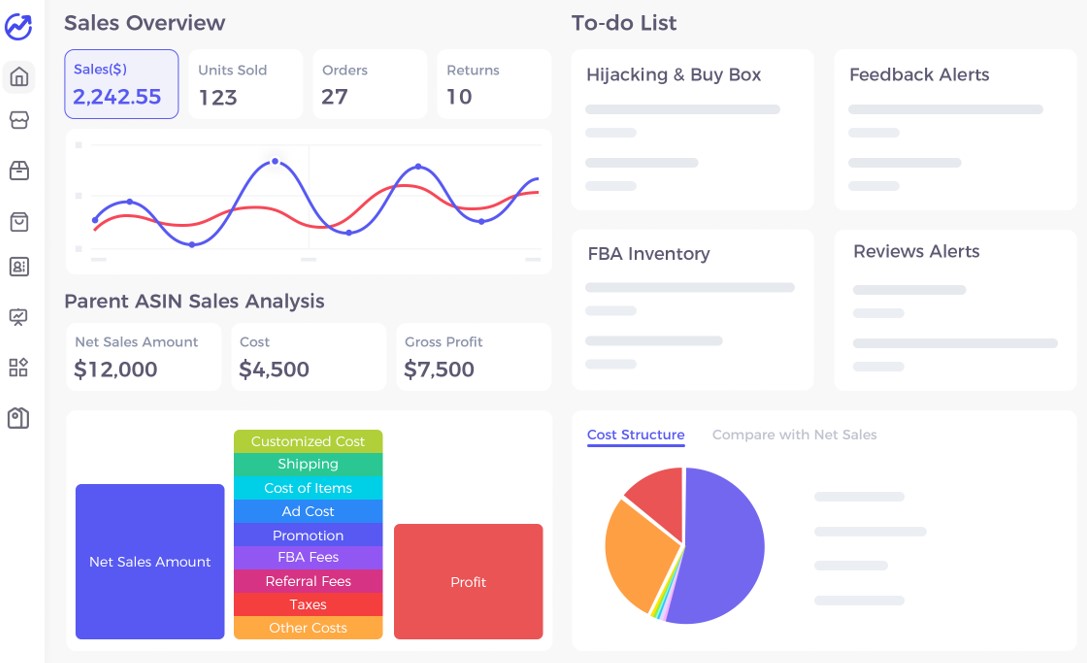 Pricing:
The pricing plans offered by tool4seller differ in the limits of orders and other features.
Free Plan: $0/month
Start-up Plan: $19.99/mo or $199/year
Standard Plan: $79.99/mo or $799/year
Professional Plan: $159.99/mo or $1,599/year
Premium Plan: $299.99/mo or $2,999/year
Amazon Repricing Tools
informed.co
informed.co is an unbeatable repricing tool for marketplace sellers on Amazon and Walmart. This tool has pre-built algorithms which use artificial intelligence to reprice your products according to the strategies you set.
You can select from many strategy options according to your motive whether it be to win the Buy Box more often or to get more profits in case of low competition.
It let you customize the repricing strategy the way you want. The AI-powered software helps maximize profits and chances of winning the Buy Box by only competing against the sellers that are eligible to win the Buy Box.
It has flexible options which compete differently against FBA, MFN, SFP, and Amazon.
This tool adjusts your selling price to an optimal point regardless of the competition in a listing.
You can choose whether you want to compete against an FBA seller or an MFN seller or only compete to win the Buy Box.
You also get the flexibility to price below, above, or match the competition's price in a listing. This tool is also beneficial for private label sellers.
The powerful AI evaluates the market and finds the perfect price for your products that maximizes your profits and also maintains sales.
Pricing:
The pricing plans for informed.co are based on your monthly revenue.
Up to $5,000 monthly revenue plan: $49/month
Up to $10,000 monthly revenue plan: $99/month
Up to $25,000 monthly revenue plan: $149/month
Up to $50,000 monthly revenue plan: $199/month
Up to $100,000 monthly revenue plan: $249/month
Up to $500,000 monthly revenue plan: $299/month
Up to $1M monthly revenue plan: $399/month
Repricer.com
As the name suggests, Repricer.com is another software amazon sellers use for repricing.
It allows repricing according to many different ways. You can set it to price upwards when your competitors go out of stock and when you have the Buy Box.
The tool can also be set to sell at a lower price when you have a large inventory and then increase the price as your stock dwindles.
It helps you to identify products with a high or low probability of winning the Buy Box and choose your repricing strategy accordingly.
You can sell at a targeted profit margin with Repricer.com by entering your costs so that you make a profit on every sale.
There is the flexibility of optimizing the repricing strategy by setting a scheduled time-specific rule and raising the price during quiet periods of the week.
This Seller Tool supports 20 Amazon marketplaces and lets you reprice globally from only one platform.
Repricer.com is not only an Amazon seller tool but also synchronizes and works for eBay, Walmart, Magneto, Shopify, Woo Commerce, and many other platforms too.
This top Amazon seller tool, Repricer.com also lets you spy on your competitors and see how they are beating you on seller's fulfillment methods and the average selling price.
You can take required actions and compete easily based on fulfillment, stock levels, profit margins, and much more.
It also produces reports that show you which products have not been selling well and why, as well as which products are doing the best.
Pricing:
The pricing plans are based on the maximum number of listing on your Amazon seller account. It offers a 14 day free trial.
Express Plan: $105/month or $85/month billed annually
Plus Plan: $309/month or $259/month billed annually
Ultimate Plan: $509/month or $409/month billed annually
Extreme Plan: $1549/month or $1249/month billed annually.
Sellery
Sellery lets you easily manage and reprice your Amazon inventory in real time. This is a comprehensive tool that works exclusively with Amazon and allows fully customizable pricing strategies and powerful repricing algorithms.
It has an option to group products and applies the same pricing rules to all.
This smart amazon seller tool enables you to add your mark-ups and costs, set your desired profit margins, enforce MAP and price limits and also avoid price gouging.
It reprices your products according to your set strategies within seconds for unlimited items simultaneously.
This tool also lets you select specific sellers as targets for your competitive pricing strategies including Amazon.
You can set your minimum price limit for every product so you don't sell at a loss and the tool will never drop your price below the set minimum.
You can also set your strategies to win the buy box. Moreover, Sellery also provides private label solutions to sell more efficiently depending on your sales velocity.
It automatically finds suitable price points to sell your products at a profit.
This tool also uses intelligent algorithms to automatically discount FBA items that age in the warehouse to avoid Amazon storage fees and also spot listing hijackers.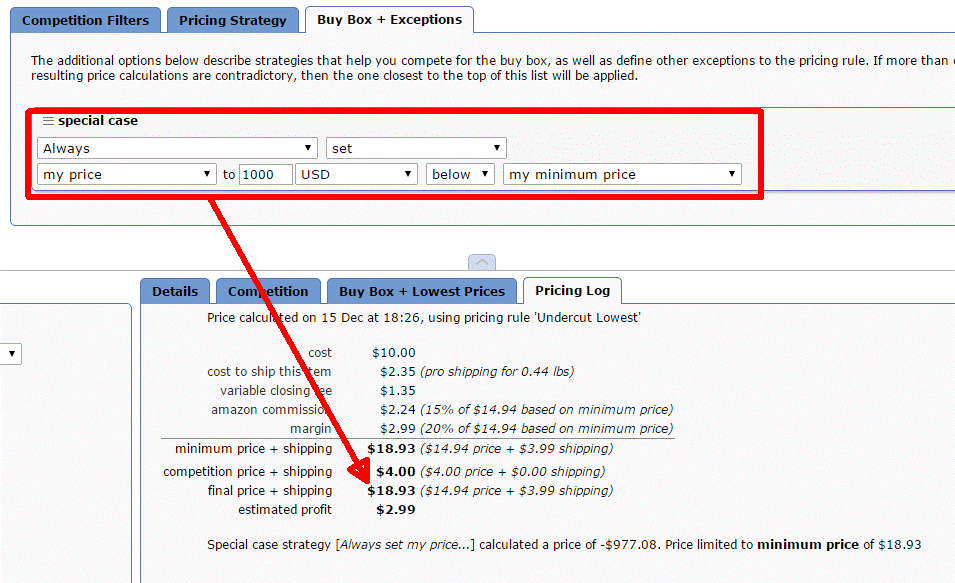 Pricing:
Sellery charges you 1% of your gross monthly sales, with a minimum charge of $50/month and a maximum of $2,000/month.
Gross monthly sale is $5,000: $50/month
Gross monthly sale is $8,500: $85/month
Gross monthly sale is $10,000: $100/month
Gross monthly sale is $200,000: $2,000/month
Gross monthly sale is $300,000: $2,000/month
Amazon Products Overview Tools
Scan Unlimited
Scan Unlimited is a compact browser extension that alerts you if a brand is known for filing IP complaints against Amazon sellers.
When you open an Amazon product detail page, a warning symbol will appear in case of an IP alert.
Amazon sellers can protect their seller account with the Scan Unlimited chrome extension. Scan Unlimited database is crowd-sourced and updated regularly.
When Amazon sellers report IP complaints from brands, the Scan Unlimited team reviews and updates these reports in their system to help other Amazon sellers who haven't yet received such a complaint refrain from listing that brand's products this keeps their seller accounts safe.

It enables you to identify if an ASIN or brand is currently restricted before sourcing or not.
Scan Unlimited is also a wholesale product sourcing tool that helps Amazon sellers manage and source inventory smartly.
It has additional features such as bulk scan which undergoes a powerful data search to get the data you need to make a buying decision.
You can upload data feeds from brands, suppliers, wholesalers, or distributors and this tool scrapes out all the ASINs and Amazon listings for each UPC or EAN with 60 data points.
Another feature included in this tool is a profitability and ROI calculator which also tracks competitive offers and tells whether a competitor is MFN, FBA, or Amazon itself. Scan Unlimited extension can be downloaded from here.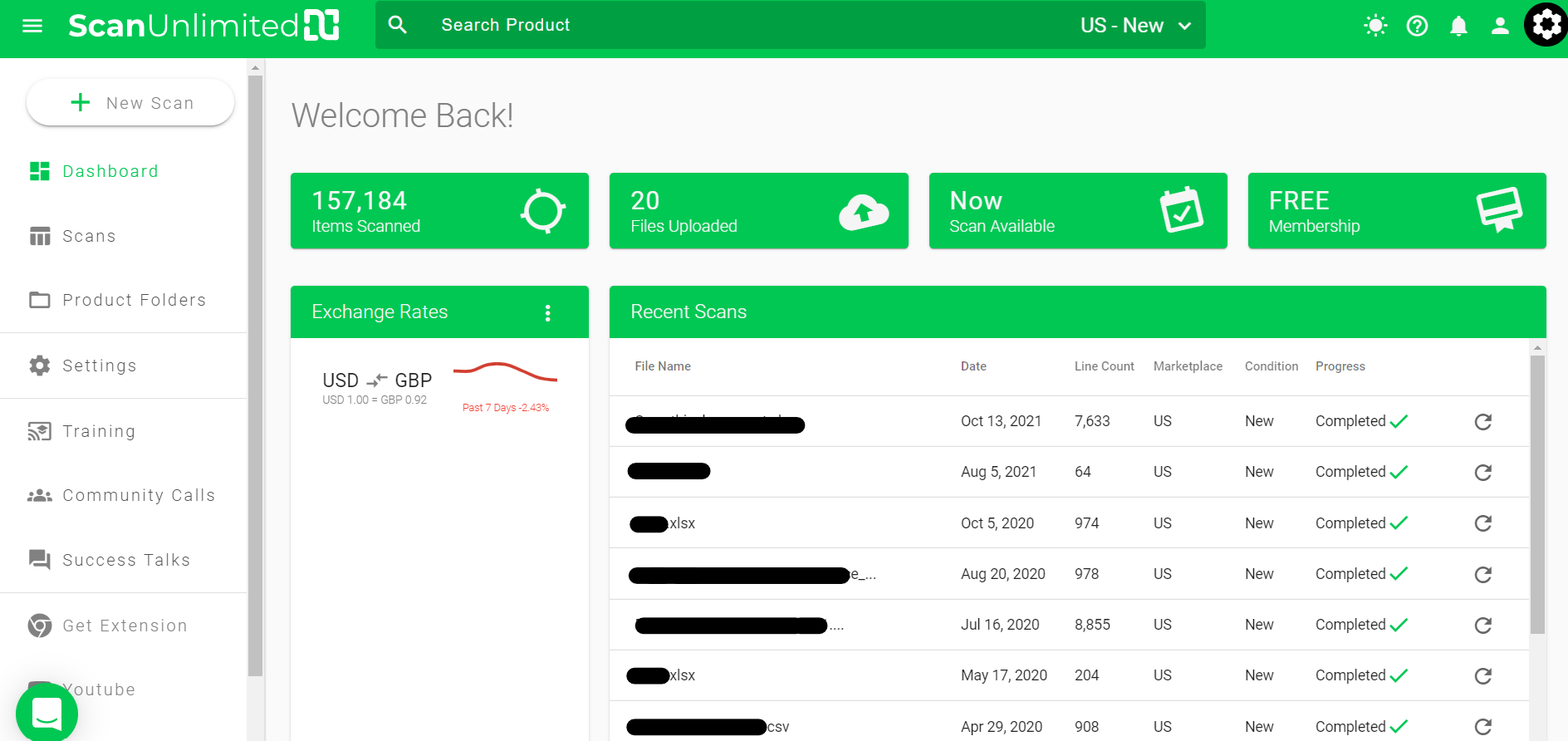 Pricing:
Limited Plan: $0/month
Unlimited Plan: $60/month or $50/month billed annually.
DS Amazon Quick view
DS Amazon Quick View is a chrome extension that shows valuable information on the Amazon search page which makes product searching significantly easy.
The information shown by DS Amazon Quick View on the front search page of Amazon is the ranking of the product in its parent category and also in its sub-categories.
It also shows its ASIN and most importantly whom it is being sold by. It indicates whether Amazon is selling the product or not and also the number of other FBA sellers selling in that specific listing.
By clicking on the yellow and red buttons it shows the sellers selling it to get a detailed overview of the offers available.
Additionally, it gives an option of viewing the price history and Keepa history but these 2 features are restricted to the DS Amazon Quickview Extended.
DS Amazon Quick View is a free chrome extension that is only limited to working on Amazon.com and does not support any other marketplace domain.
By using DS Amazon Quick View you can make product hunting very convenient and increases efficiency as key information is already displayed on the search page. Hence if a product is not viable to sell, it can be dropped instantly.
Pricing:
DS Amazon Quick View: Free
DS Amazon Quick View Extended: $25 one-time fee.
Online Seller Addon
Online Seller Addon also known as OS Addon is a very compact Google chrome extension for Amazon sellers.
OS Addon is one of the best free amazon seller tools available for the stock count. This tool is a free stock counter for Amazon sellers with unlimited product checks.
You are not required to sign up, make an account, or pay for this tool. It is free for everyone. Just add the extension to your browser and start using it immediately.
This extension will show the currently available stock for the different offers in an Amazon listing.
It supports all Amazon marketplaces. Simply open a product detail page on Amazon and click the "Count Stock!" button on the extension and it starts showing the real-time available stock of every seller in the listing.
This not only shows the stock of FBA sellers but also of MFN and Amazon.
This is an amazing tool for competitor analysis as you get to know the active inventory of each competitor and you can identify the sales of a specific product by checking the difference in the stock count of a seller between 2 days.
Suppose you check the stock of a seller and it says 20 quantity and the next day it says 15 quantity so you know that 5 units got sold in one day.
It also displays the name of each competitor's storefront, its offer price and type of seller.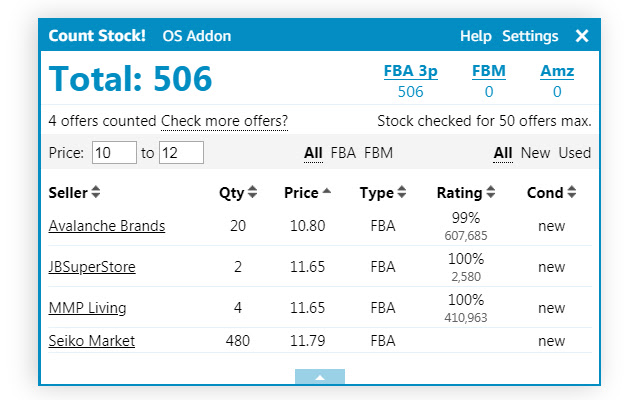 Pricing:
Online Seller Addon is free.
IP Alert
IP alert is a simple and small browser extension that warns of any potential IP complaints on the Amazon product detail page.
The extension triggers a pop-up along with a flashing red siren on the right side of the brand name under the title on the product detail page on Amazon.
This tool works on all Amazon marketplaces. Furthermore, it is crowd-sourced by Amazon sellers and updated regularly.
Click here to purchase an IP Alert plan.
Pricing:
Annual Plan: $99/year
Lifetime Plan: $199 one-time fee.
Conclusion:
This article has briefly discussed the best Amazon seller tools available for you to work as a seller on Amazon.
Tools such as Amazon seller tools can help new sellers get started and stay competitive.
Although there is always a price to pay, this article has included the most comprehensive tools as well as free ones so that you can save on these additional costs.
Though, there are hundreds of Amazon seller tools available for every goal whether it is product hunting, inventory management, or repricing.
Some of the tools we mentioned are among the best available for Amazon sellers; others may not be as effective.
The right tools can ensure your long-term success as an Amazon marketplace seller. If you believe we missed any other awesome tool for Amazon sellers, let us know in the comments below!