Amazon packages have become a part of our life. Amazon delivers millions of packages daily worldwide. We see packages everywhere on porches, apartment lobbies, front desks, etc. Amazon always finds new ways to improve customers' purchasing experience.
Amazon packages getting stolen from porches has been an issue for a long time. Unfortunately, some apartment buildings have restrictions or insecure drop-off locations. As a result, 'porch pirates' have increased. Amazon introduced the Amazon Hub Locker service to combat these issues. Now people can order from Amazon and get it quickly without fearing it getting stolen. It has solved the problem for many people but also has a few limitations.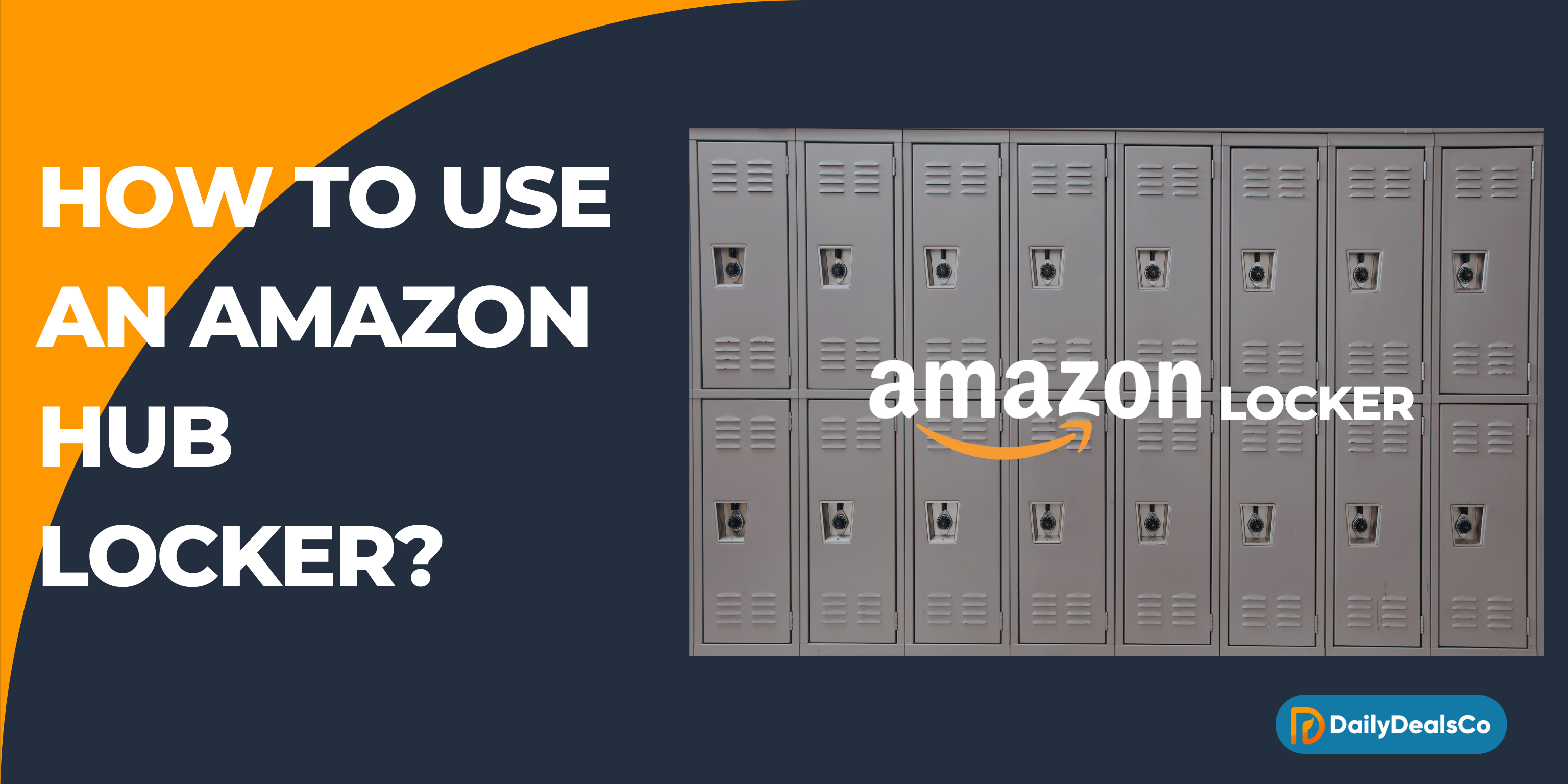 This article will take you through all steps to use an Amazon Hub Locker.
What is Amazon Hub Locker?
An Amazon Hub Locker is a safe, self-service kiosk that allows Amazon customers to collect and return packages from their nearest location. Amazon sends the recipient a code used to access the locker.
In Seattle, New York City, and London, Amazon launched the first Amazon Hub Locker in 2011. After its success and high demand, the network expanded to other locations rapidly.
There are more than 900 Amazon Hub Lockers across the country.
Customers can collect their Amazon packages from these secure lockers instead of their home addresses. It is a safe, quick, and convenient way to receive shipments from Amazon.
You will usually find Amazon Hub Lockers at convenience stores like seven eleven, shopping centers, gas stations, grocery stores, and postal centers.
Types of Amazon Hub Lockers
Amazon Hub LockersThese are standard lockers available at different locations.
Amazon Hub Apartment LockersThese are Amazon lockers available only at apartment complexes. Only the apartment residents use them. You can use these to receive packages from Amazon.com and other retailers.
Amazon Hub Locker+These are standard Amazon lockers with an Amazon associate available in addition to the self-service kiosk. In addition, you can get free packaging supplies and boxes to pack items for when you return via Amazon Hub locker+.
How does an Amazon Locker Work?
An Amazon customer can select a Locker instead of a shipping address while placing an order. Amazon sends a delivery update with a code for collecting the package from the selected Amazon Hub Locker. The customer can collect the order from the locker by entering the code in the kiosk.
Similarly, for returning an item, you can use an Amazon Hub Locker to drop off the package. Initiate a return by selecting an Amazon Locker as a drop-off location, print the label, and paste it on the box.
The return label consists of a six-digit code to access the locker for dropping the package. Amazon allows one business day to drop off a return package.
Amazon Hub Locker is available to anyone with an Amazon account, regardless of whether they are Prime members.
How to Use Amazon Hub Locker?
1. How to choose an Amazon Locker for order delivery
Follow these steps to use an Amazon Hub Locker in the US:
Add an item to your cart and proceed to checkout.
When Amazon asks to enter the shipping address, select the "try Amazon Locker" option. People with disabilities can request a package be delivered to a lower locker slot 15 to 48 inches above the ground.
If an Amazon Hub Locker is available in your area, you'll see it. Otherwise, you can search by entering an address, zip code, or landmark.
Choose your preferred shipping method and click Continue. The available options are usually standard, free two-day, and same-day delivery.
Select your payment method and place your order.
Now that you've placed your order let's look at the next part, picking up the package from the selected Amazon Hub Locker.
2. The Amazon Hub Locker and How to Use it
Follow these steps to use an Amazon locker to collect packages:
Check your email for a delivery notification from Amazon. This email will have the code required to access the vault.
Go to the Amazon Hub Locker location. You'll usually find the Amazon locker near the entrance of commercial places.
Unlock the locker via one of the following:
Go to the kiosk screen and follow the on-screen steps. Enter the code you got via email, on the touch screen, or scan the barcode using the locker scanner. Kiosks have locker scanners under their touch screens.
From your delivery confirmation email, tap the Start Pickup button. The Amazon shopping app will redirect you to a Locker detail page. The app automatically connects with the locker via Bluetooth.
Now scan the barcode you have on your app under the kiosk screen.

The locker will automatically open up. Collect your package.
Close the Locker before leaving. The screen will also display this message.
Related Articles:
How to Return an Amazon Package Using a Hub Locker?
You'll see an option if your package is eligible for a return at an Amazon Hub Locker in the returns center. Your locker will remain available to return the item by the end of the next business day.
Follow the following steps to return your package via an Amazon locker,
Submit a return request and select a nearby locker from the map.
Amazon will send you an email with your drop-off code.
Take the code along with the package to the amazon locker.
Enter the code on the locker screen.
Follow the on-screen instructions.
How to find Amazon Lockers Near me?
Go to Amazon and enter your desired Zip code, address, or landmark in the box to find pickup locations nearby. Usually, Amazon lockers are situated at easily accessible public places like convenience stores, gas stations, universities, and business locations.
Pros and Cons of Amazon Hub Lockers
Pros of Amazon Hub Lockers
Security and reliability

Amazon Hub Lockers are entirely secure, without a doubt. They eliminate the risk of stolen shipments by any porch pirates. Your packages are 100% safe and sound inside an Amazon Hub Locker. Every Amazon locker also has a camera fitted above the kiosk screen to monitor delivery drivers and customers who use it. Amazon lockers are strong and unbreakable. Moreover, each locker consists of only one package. Therefore, two different people's boxes would never be inside one locker simultaneously. Thus, the unique code can only access an Amazon locker once.
No extra fee

Amazon does not charge additional fees for selecting any Amazon Hub Locker location as your shipping address. Using Amazon Lockers for deliveries is free for all Amazon customers.
Safe from weather
Packages left on the front porch could get damaged by bad weather, such as rain, snow, and storms. Your Amazon packages are safe from getting ruined by any such natural reasons. Amazon Hub Lockers keep your packages safe from getting damaged by bad weather.
Ease of accessibility Amazon Hub Lockers are easily accessible to everyone. Mostly Amazon lockers are at convenience stores or other commercial locations. Additionally, Amazon lockers offer accessibility features such as talking lockers, high-contrast touchscreen text, and a lower locker slot preference. These features support access by blind, low vision, deaf, hard of hearing, and mobility-impaired customers. Moreover, Amazon lockers are at places that have wheelchair access.
Anyone can pick it up for you If you want someone to pick up a package that Amazon has delivered to your Hub Locker, send them the email containing the delivery confirmation. This email has the unique six-digit code to access the locker. Anyone with this code can collect your package. It makes the use of Amazon Hub Lockers even easier.
Cons of Amazon Hub Lockers
Pick-Up Using Amazon Hub Lockers for your Amazon deliveries means you need to travel to your selected locker location and pick up your package. But, of course, you cannot enjoy the leisure of packages delivered to your home.
Time limitation Customers have only three calendar days to pick up their packages from an Amazon Locker. If you do not pick up your package within three days of the package delivery, Amazon will automatically return your package and will issue a refund. It is because Amazon lockers are in high demand and used by many people. This three-day deadline ensures that Amazon Hub Lockers are available for everyone.
Additionally, access to Amazon lockers depends on the store's operation time. Many Amazon lockers are open 24 hours, but many have time restrictions according to the store's opening and closing times.
Package Restrictions Packages must fulfill the following eligibility criteria to qualify for Amazon Hub Locker delivery,

The shipping weight must be less than 10 lbs.
Product dimensions must be at most 16 x 12 x 14 inches.
All items must be sold or fulfilled by Amazon.
The shipment does not contain any of the following:

Hazardous materials.
Subscribe & Save items.
Items shipping from other countries.
Items for release-date delivery.

The total order value must be at most $5,000.
Who Uses Amazon Hub Lockers?
Anyone with an Amazon account can use an Amazon Hub Locker. Many people use Amazon lockers for deliveries to avoid porch pirates. Unfortunately, the packages left on front porches or apartment lobbies get stolen easily.
Another reason people use Amazon Hub Lockers is for convenience. You can use an Amazon locker if you need something at another location, not your home.
People who travel and need something from Amazon can look for Amazon lockers according to their planned path and collect their orders on the way. Amazon lockers are also convenient for people who use an RV.
People also use Amazon Hub Lockers to avoid their packages getting received by someone else from their household.
University students also use Amazon lockers installed at campuses for their Amazon packages.
Alternatives to Amazon Hub Lockers
Amazon Hub Lockers are undoubtedly the leading solution for safe deliveries. However, there are few alternatives to this if the Amazon Locker service has yet to be available in your area.
How to Become an Amazon Hub?
Small business owners who have a retail location or storefront can apply to join Amazon's Hub locker network. Joining the Amazon Hub network is free, but only some people qualify. Amazon approves depending on the Amazon locker demand in your area, your business's location, and hours of operation.
There are a few requirements to be eligible to apply to join the Amazon Hub network. Firstly, you need enough space in your business location. You are required to define your area, location type, contact information, and hours of operation. Amazon usually responds in around two weeks.
Hosting an Amazon locker is just like hosting a vending machine. Apart from a 110-volt, 15-ampere circuit near the locker location, the self-service kiosks do not require additional effort from hosts. Amazon covers its lockers' manufacturing, shipping, installation, and maintenance. Amazon lockers are 6 feet tall and usually 6, 9, 12, and 15 feet long.
Benefits of Becoming an Amazon Hub Host
Increased footfall Having an Amazon hub locker increases the overall footfall of your store. Customers coming to collect their packages might also buy something from you. So it would ultimately boost your overall sales. A survey showed a 9% increase in retail sales of Kohl's stores in Chicago, where there were Amazon Hub Lockers. So eventually, the people who come to collect packages from the locker might become your customer.
Increased awareness The increased footfall helps increase your store's awareness in your area. Anyone who will come to collect their package will see your store name. In addition, people will recognize your store easily due to the Amazon lockers. This factor promotes your store name for free. Customers recall the Amazon hub lockers with your store name. If someone needs to buy a few things, they will prefer buying from you on the way while collecting a package.
Customer loyalty It is a fact that people go where they find convenience. Indeed, the convenience makes people happy. Having an Amazon locker facility at your business will allow customers to pick up their packages and buy the things they need in one place. Satisfied customers will most likely return to your store again. It will increase customer loyalty. Positive word of mouth from such customers will help your business flourish in the long run.
Conclusion
Amazon Hub Lockers have made our daily life easy and stress-free. While this fantastic service is very convenient to Amazon customers, it also benefits Amazon. Amazon saves a lot of money on refunds arising from claims of stolen or damaged packages. While the delivery process is smooth and secure, returning packages is also very convenient.
Amazon always strives to provide its customers with the best online shopping experience. It makes it the world's most customer-centric company. Amazon hub lockers are widely available in almost every city and urban area in the US and other countries.
We'd love to hear about your experience at an Amazon Hub Locker in the comments below.
Branded Dropshipping from DailyDealsCo is the Smart way to Go!
Your branded dropshipping supplier should always have:
A team of knowledgeable support representatives.
High-quality goods and services that appeal to their target customers.
Tools for tracking inventory, sales, and related business data.
Be prompt, regular, and efficient in the way they handle shipments.
DailyDealsCo has all the qualities of a great business. We are a wholesaler and dropshipper based in the USA with thousands of natural, organic products.
All these items are made in the United States and come from brands with a strong reputation.
Furthermore, our inventory includes a wide selection of gourmet, premium, and specialty items.
Become a member of our wholesale and dropshipping program, and we'll handle all aspects of the process for you.
Our company DailyDealsCo also functions as a conventional wholesaler, so you can order bulk products from us and then handle the packaging, storage, and shipping.
Join DailyDealsCo Today and Start Dropshipping