Amazon expedited shipping is a premium option for customers who want to receive their orders earlier. Although Amazon is known for its rapid shipping services, many customers will pay additional costs to get packages faster.
The number of customers who want to receive their orders earlier has increased significantly over the past few years. After the recent Covid-19 pandemic, US parcel shipments topped $20 billion.
According to a survey by RetailWire, 64.3% of respondents find cost the most critical factor in shipping. However, another analysis shows that 78.9% of people shop on Amazon due to its fast and free shipping (Source: Statista).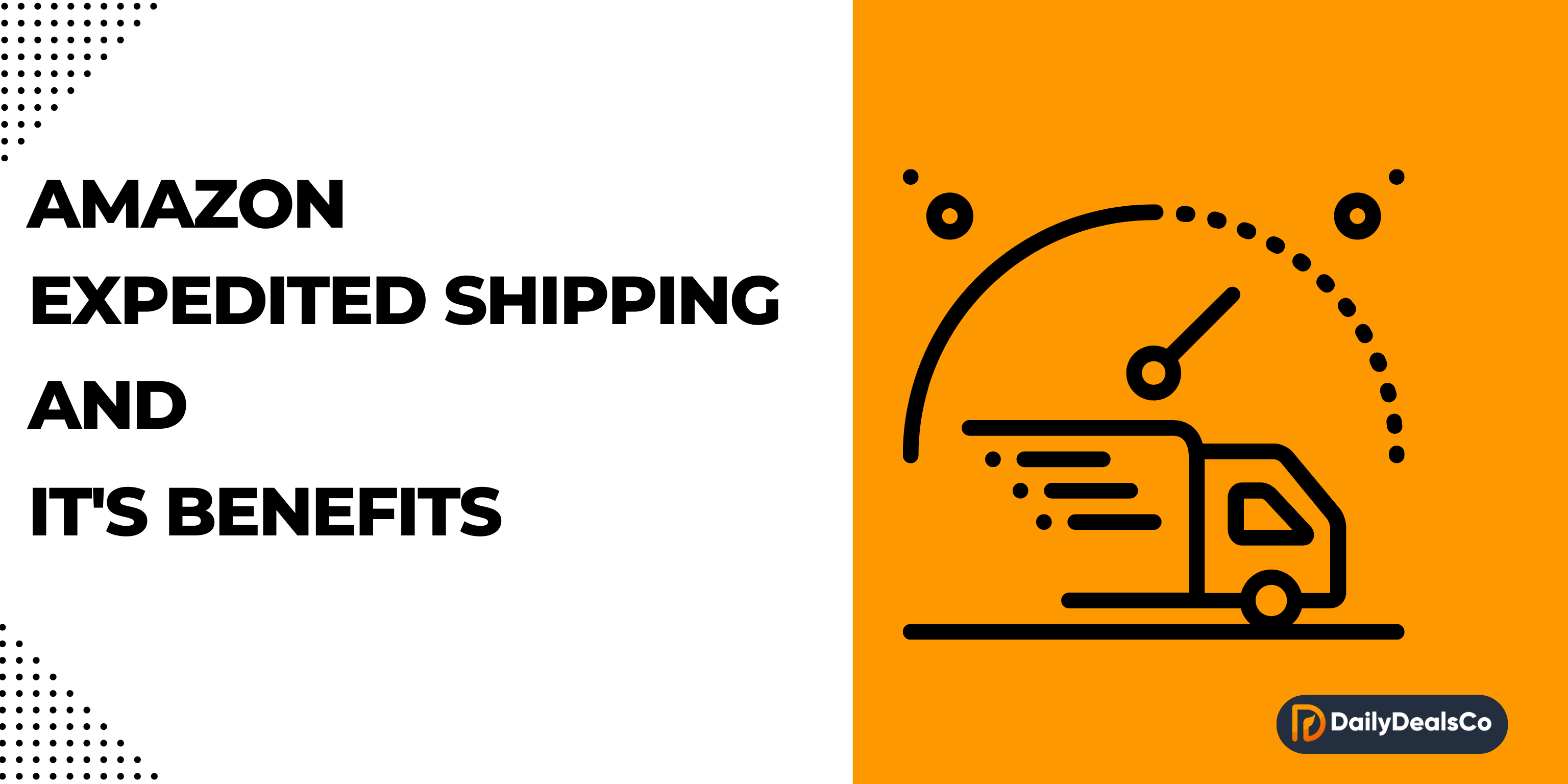 What is Amazon Expedited Shipping?
The word "Expedited" means delivering goods in less time than it would regularly take. Generally, faster options are chosen at different shipping stages to ensure a faster-than-normal delivery. Therefore, expedited shipping does not precisely depict one-day or two-day shipping.
Although, Amazon customers now expect their orders to ship within two to three days by choosing expedited shipping. This expectation bar rises due to Amazon's speedy delivery options.
Express shipping is generally used alternatively for expedited shipping. Unfortunately, the word expedited only promises to ship before regular and not within certain days. It just promises the delivery of goods faster than usual.
Customers can pay an extra price to get the order earlier than they would get it on average.
How Long does Amazon Expedited Shipping Take?
Amazon expedited shipping options might vary depending on products, quantity, availability, and location. Amazon only offers expedited shipping in some areas. Standard domestic delivery from Amazon is 5 to 7 business days.
Expedited shipping will guarantee the delivery of your order before this. You can expect an expedited delivery in 3 to 5 business days.
On Amazon, expedited shipping generally is one-day and two-day shipping. Remember that one-day shipping does not necessarily guarantee that the order will ship within one day.
Similarly, two-day shipping does not guarantee the shipping of goods in two days. After Amazon picks and packages an order, it ships.
The shipping time starts once an order has passed the packaging and labeling stage.
Related Article:

Let's see what shipping options Amazon offers its customers.
Shipping Options Amazon Offers
Amazon offers the following shipping options for eligible orders:
Standard domestic shipping on Amazon is usually 4 to 5 business days. Standard shipping is free. The typical global shipping time varies from one week to 4 weeks.
Amazon expedited shipping is faster than standard shipping. Amazon expedited shipping is an express delivery option for shipping to domestic addresses. Domestically, one-day and two-day shipping by Amazon is considered expedited shipping.
Expedited shipping is the fastest shipping option available locally on Amazon. The availability of these options depends on the area and Prime membership. Free one-day and two-day shipping is only for Amazon Prime members for eligible orders over $25.
Priority shipping is faster than expedited shipping. In addition, priority shipping is available for global shipments. As a result, priority shipping reduces international shipment times significantly. Learn more about priority shipping times for different regions here.
Expedited Shipping vs. Standard Shipping
Standard shipping on Amazon for domestic orders guarantees order delivery in 5 to 7 business days. Expedited shipping guarantees the order delivery before the usual delivery time window. As a result, the order shipment may be as fast as two business days.
Expedited Shipping vs. Priority Shipping
Expedited shipping is faster than standard shipping but slower than priority shipping. Generally, expedited shipping means giving priority over orders with standard shipping. Priority shipping is available for global shipments only. A customer can choose Priority shipping to reduce the delivery time significantly.
Benefits of Amazon Rush Shipping
Besides receiving your orders faster than expected, Amazon expedited shipping has other benefits.
When a package ships with expedited shipping, it is less likely to get damaged. It is because carriers handle such packages differently than standard delivery.
Shipping companies give expedited shipping packages priority over other shipments at every stage of the delivery process. Therefore, there are fewer hurdles and stops in the way. It ensures that your package does not face any damage during shipping.
Amazon expedited shipping is relatively inexpensive. However, this factor might vary depending on the seller and package dimensions or weight. Expedited orders fulfilled by Amazon are relatively inexpensive.
Amazon shipping services are reliable for getting your packages delivered on time. In addition, you can rely on Amazon expedited shipping if you need a gift for any occasion, medical reason, deadline, or holiday.
Amazon expedited shipping ensures speed, safety, less handling, and live delivery updates. Amazon expedited shipping is the best solution if you are a last-minute shopper.
Insurance of compensation
Problems may arise with shipments in the ordinary course of business even though Amazon's shipping services are outstanding. There always exists a chance of delay in rush shipping.
Shopping on Amazon provides peace of mind by offering surety to compensation in case of delay. If you select expedited shipping but your order does not deliver in the promised time, you can get a refund.
How much does Amazon Expedited Shipping Cost?
The cost of Amazon expedited shipping depends on a few factors. Firstly the Amazon Prime membership. Secondly, the seller of the products.
Amazon expedited shipping is only free for all Amazon prime members. Free shipping options for Amazon prime members include one-day, two-day, and standard shipping. In addition, same-day delivery is available only for qualifying orders over $25.
For non-prime members, orders over $25 qualify for free shipping. If the order value is below the $25 minimum, Amazon charges a shipping fee. Amazon charges shipping costs according to the order weight, dimensions, and location.
Free Amazon rush shipping is not available for non-prime customers. Amazon usually charges non-prime customers $6 for standard shipping and $10 for expedited two-day shipping for orders below $25.
The seller is the second factor that accounts for expedited shipping costs on Amazon. If the product ordered is fulfilled by Amazon, expedited shipping is free for prime members.
If a third-party seller is fulfilling the product on the marketplace, the cost of expedited shipping may vary. It is up to the seller to set their desired expedited shipping fee.
Is Amazon Prime Worth it for Rush Shipping?
Amazon offers a free 30-day trial for Amazon Prime. After the trial, customers can choose between two plans. Prime monthly membership costs $14.99 per month. Prime annual membership costs $139 per year. This membership can be canceled or renewed easily.
By becoming a Prime member, customers qualify for unlimited free deliveries until their membership ends. In addition, Amazon Prime membership covers the shipping costs and provides other benefits.
If you are a regular purchaser on Amazon, becoming a prime member is worth it. You can qualify for free one-day and two-day shipping. Apart from that, you may also be eligible for same-day delivery. The benefits of prime membership outsmart the cost of it.
Conclusion
Amazon rush shipping provides a reliable, quick, and safe delivery experience when you need something in a short amount of time.
Choosing Amazon expedited shipping is an intelligent decision for global shipping since it significantly reduces the shipping time. Apart from that, your shipment is less prone to damage with expedited shipping on amazon.
If you want to get your order faster than average, you can choose rush shipping on Amazon.
Stock up on Hair Care Products with DailyDealsCo.

You can find fantastic wholesale hair care products at DailyDealsCo!
As your wholesale and dropshipping supplier, we will assist you in operating your online store.
Not only do we sell natural hair care products, but we also carry a variety of other eco-friendly offerings in categories like:
Natural & Organic Groceries (Foods)
Natural specialty candy and gourmet chocolate
Skincare and Haircare Products
Health and Personal Care and Natural Remedies
Specialty and Gourmet Rice, Bread & Pasta
Sparkling mineral-flavored and alkaline bottled water
Wholesale Natural Vitamins and Supplements
Specialty, premium, and organic tea. Plus, gourmet coffee!
Specialty snacks, as well as ethnic food
Ingredients used in baking + seasonings, herbs, and spices
Several well-known and lesser-known brands are available for customers to choose from.
It's super easy to add hair care products to your eCommerce store with just a few clicks.
You can use our product feeds to quickly and easily add products to your Shopify, WooCommerce, or Amazon/eBay store.
We offer free Amazon FBA prep services to our members. In addition, we are both a dropshipping supplier and a bulk wholesaler, so we can help you save time on the sourcing process while making large orders at discounted prices—a combo that is hard to find.