Amazon is the biggest online retailer worldwide, with net sales revenue amounting to $469.8 billion. The company handles millions of shipments every day. The number of transactions that happens every hour is in millions. When shopping on Amazon, you usually use a credit or debit card. You might ask yourself, when does Amazon charge you once you place an order? Does Amazon charge right away?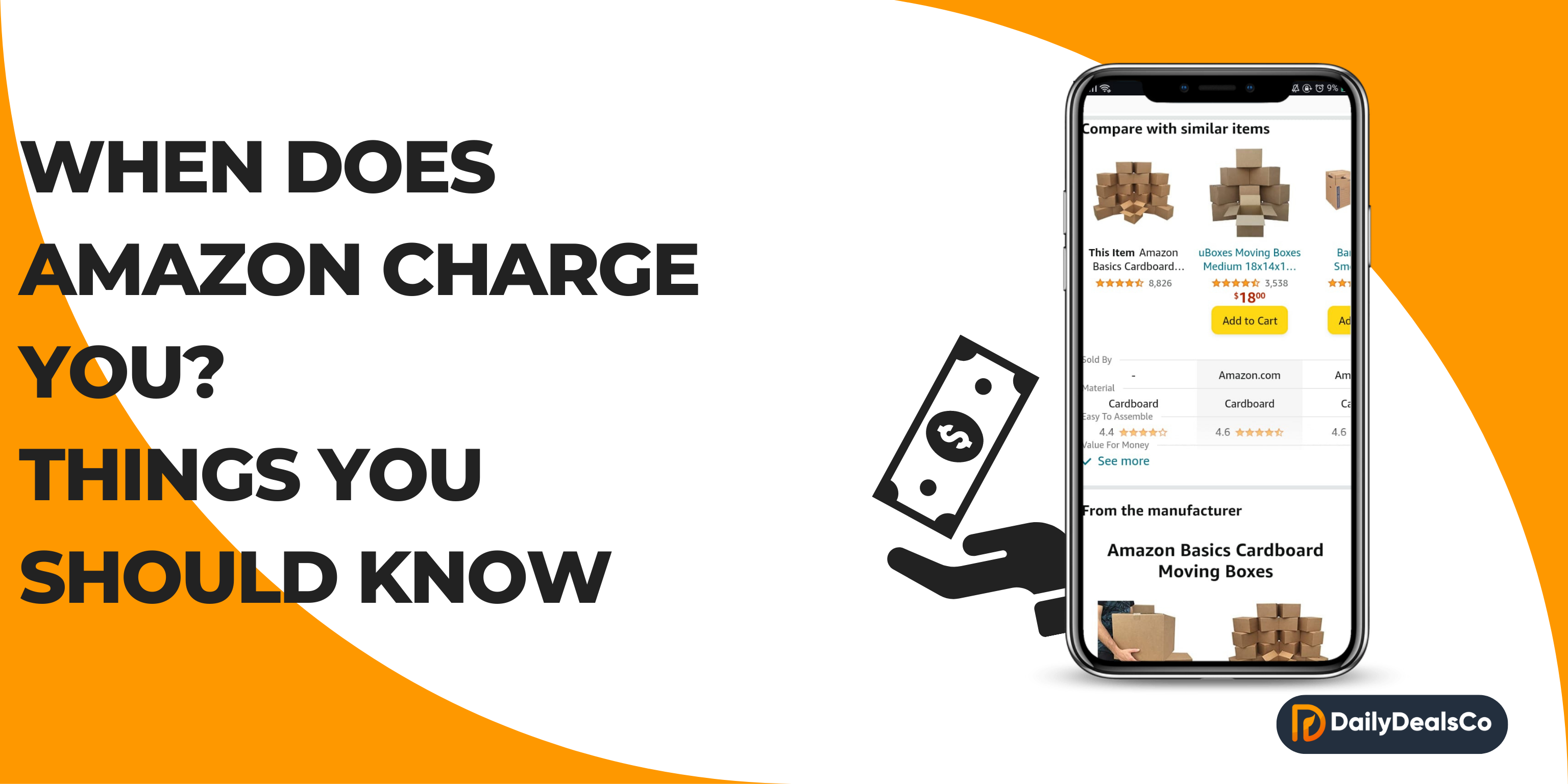 This article will answer all your questions regarding charges for Amazon orders.
When Does Amazon Charge You for an Order?
Amazon charges its customers for their order once it enters the shipping stage. Therefore, Amazon does not charge you immediately after making a purchase. However, this is for products sold and shipped by Amazon. Contrary to this, third-party sellers on Amazon might charge you right after placing an order.
Depending on the order and how long it takes to prep it, you get charged at a different time. Usually, you get charged right before or after the order is shipped.
Amazon orders are usually fulfilled and delivered rapidly within a few days due to its massive logistics and warehousing facilities.
Orders from Amazon and other marketplace sellers are different. For example, if you purchase a product sold and shipped by Amazon, you won't be charged until your order gets shipped.
Purchasing a product from a third-party seller on Amazon might result in your card getting charged immediately. However, it varies from seller to seller. Every third-party seller doesn't charge you immediately. Instead, some charge you when your order is shipped. Sellers generally practice it to avoid refunds and other issues.
Related Articles:
When Does Amazon Charge You for Amazon Prime?
The current Amazon Prime membership prices are,
$14.99 per month
$139 per year
Whereas the Amazon Prime Student membership fee is,
$7.49 per month
$69 per month
Amazon Prime members get charged monthly or annually according to their selected plan. Once your free trial period completes, you get charged for the membership. After that, Amazon automatically charges you for the membership after every period ends.
Amazon updated its Prime membership plan prices on February 18, 2022.
Prime members can opt out of the auto-renewal for their Amazon Prime membership. Buyers can also pause, switch, share, and end their Amazon Prime membership. In addition, members who have yet to use their Prime membership benefits can get a full refund for their membership.
A reminder set for the Prime membership charge on your calendar is a good idea. Furthermore, Amazon also notifies via email when the charge date for membership is near.
When Do You get Charge on Backorders?
Products that are temporarily unavailable on Amazon but expected to be available within 30 days are said to be back-ordered. Buyers are only charged for backorders once the item returns and the order ships.
Although Amazon provides a restocking date for backorders, customers can cancel such orders before they ship.
If there is no specified date of restocking for a product on Amazon, customers can not purchase it.
Amazon will notify you once the back-ordered item is in stock again and ready to ship.
When Does Amazon Charge You for "Subscribe & Save"?
The "Subscribe and Save" feature is highly beneficial for regular purchasers. If you need any product regularly, you can opt for the "Subscribe and Save" feature for that product. Examples are cleaning supplies, toilet paper, tissue boxes, paper towels, pet food, breakfast, and cereals.
Customers who opt into Amazon's Subscribe & Save program can get products at a discounted price, but only if they are sold and shipped by Amazon.
Adding multiple products to your subscribe and save list enables you to save up to 15% on each item and get free delivery. In addition, Amazon will notify you about your upcoming subscribed delivery before shipping it. It allows you to review and make changes if needed. It also allows shifting the delivery to the next delivery cycle.
Amazon charges you for the "Subscribe and Save" orders once the order is delivered.
When Does Amazon Charge You for Pre-Orders?
Amazon pre-orders allow customers to order products before they are released. If you pre-order an item, it will be delivered to your door on the official release day. So people pre-purchase them to be the first ones to acquire them. Some of the most popular items typically pre-ordered on Amazon include video games, tech products, books, and gaming consoles.
Similar to standard orders on Amazon, you are charged for pre-orders when the product enters the shipping stage.
Amazon does not charge you instantly for pre-orders. However, you can check your pre-order's shipping status to know when Amazon will charge you. Amazon will also notify you regarding your pre-order updates. If there are any changes to your pre-order such as the release date or price, Amazon will update you.
If there is a price change, Amazon guarantees the lowest price if the item qualifies with a "Pre-order Price Guarantee."
What is Amazon's Pre-Order Price Guarantee?
Amazon's Pre-order price guarantee applies to qualifying items not yet released. Therefore, the price on Amazon for products still needs to be released might change from the time it is listed for purchase till it is released or shipped.
For all qualifying physical and digital products yet to be released, Amazon guarantees the lowest price from placing the order to getting shipped.
Amazon settles any discrepancies in price within 48 hours for pre-orders under this guarantee.
Do You Get Charged Before Shipping?
E-commerce retailers have certain restrictions from the Federal Trade Commission. These rules strictly impose on merchants and credit card issuers. Due to this, retailers usually hesitate to charge the customer's card before shipping the item.
Businesses can charge customers before they receive the goods, although it is not illegal.
The FTC rules are strict and well-regulated. Typically, Amazon only charges after shipping to avoid hassles. However, there is always a possibility of a delayed order. Therefore, Amazon is lenient in charging customers to avoid refund delays and other issues.
Related Article:
When Does Amazon Charge Your Card?
Amazon Charge on a Credit Card
Amazon charges all credit cards when the order ships. Anything sold and shipped by Amazon is not charged before shipping. The credit card issuer does not matter. It can be a Visa, MasterCard, Discover, American Express, or any other.
However, the scenario might differ if you use a credit card to purchase from a third-party seller on Amazon. Sellers may charge your card after you place your order or after it ships.
When a customer orders, Amazon takes authorization for a temporary charge amount on the credit card. It ensures that the authorized amount is available for charging the credit card when it ships. In addition, the authorization limits the specific amount on the credit card to charge it later. If the funds are insufficient, the order will not proceed in the first place.
Amazon Charge on a Debit Card
Amazon considers a debit card very similar to a credit card. The only difference is in the payment times. The charges are withdrawn directly from its associated bank account for a debit card. For a credit card, Amazon charges, and the customer pays the credit card bill later.
Amazon has the same policy for charging the payment method, whether a credit or a debit card. However, third-party sellers may charge the debit card immediately after the customer orders.
However, using a gift card speeds up the time to charge the card and the refund process. If you place an order with a gift card, it will immediately deduct the amount spent from your balance. But, in case of a refund, you will receive your refund directly.
Does Amazon Charge You for Canceling an Order?
No, Amazon does not charge you if you cancel an order before it ships. Although, you cannot cancel the order after it has shipped.
If your order has shipped, but you don't need it anymore or wish to cancel it, you can return it for a refund instead. You can also receive a returnless refund for qualifying products.
Does Amazon Charge You if Your Shipment is Lost?
When your order ships, Amazon charges you. But if Amazon loses your shipment in transit, you do not receive a refund automatically. Instead, customers need to contact Amazon customer support for a refund for shipments lost in transit. You must provide the order ID showing lost in transit and ask them to refund you.
Customers need to look out for their Amazon orders and check their status to see if there is any loss in transit shipment. However, there remains a chance that the order might show up later if found. But, once an order is lost, you can claim a refund.
Does Amazon Charge You for Undeliverable Packages?
Occasionally, packages are returned by carriers to Amazon as undeliverable packages for a few reasons,
The shipping address needs to be corrected or updated.
The carrier was unable to deliver to the provided address.
The shipping address is restricted areas such as prisons, military, or correctional facilities.
If you request signature confirmation on delivery, but delivery still needs to be successful due to this particular requirement. Mostly multiple delivery attempts are made before returning the shipment to Amazon.
The recipient refused the delivery.
The shipping label was unreadable.
The package arrived damaged.
Amazon does not re-ship undeliverable orders once returned. Once a package returns to Amazon as undeliverable, you'll receive a refund confirmation within 48 hours. Please reach out to Amazon customer support if you are still waiting to receive a refund confirmation within 48 hours after the estimated delivery date.
Does Amazon Charge You for Out-of-Stock Items?
If a product happens to be out of stock, Amazon charges the customer when the order ships. Therefore, Amazon will charge you once the item gets in stock and ships.
Conclusion
Shopping on Amazon is always convenient for customers due to marketplace policies. However, different factors influence the time you get charged for an order on Amazon. Generally, Amazon charges at the time the order ships. As an exception, a third-party seller may charge you right after you place an order.
Customers can always cancel their order before it is shipped. Besides, when you receive a notification of getting charged by Amazon, you know your order will arrive soon.
So now you know the answer: "When does Amazon charge you for your order?" Your card will be charged for standard, digital, backorders, and pre-orders when the shipping stage starts. In addition, the Amazon Prime membership gets charged at its nominated date, depending on your selected plan.
Let us know when you get charged for your Amazon orders in the comments section below!
Find Trending Products with DailyDealsCo

DailyDealsCo is a wholesaler and dropshipping supplier based in the United States, which offers thousands of natural and organic products.
We stock many American-made products, with new items arriving constantly.
By monitoring what consumers are interested in and offering those products to our members at wholesale prices, we offer a large variety of goods.
You can find a variety of specialty and gourmet brands at this store.
As a Dropship Supplier member, we'll store, pack, and ship products to your customers for you.
We store our products in a climate-controlled warehouse and use innovative packaging to protect them from spoilage.
We have warehouses throughout the country so to get products to customers faster.
Our company DailyDealsCo also functions as a conventional wholesaler, so you can order bulk products from us and then handle the packaging, storage, and shipping.
You can use our product feeds to quickly and easily add products to your Shopify, WooCommerce, or Amazon/eBay store.
Join DailyDealsCo Today and Start Dropshipping